This blog was originally posted March 4, 2016
Wrestling can be a bit like dairy farming. Farmers must be scrappy to stay mobile and not get taken down. While I have only watched a few high school wrestling matches, I understand the premise and appreciate the mental toughness and focus young athletes endure for those intense minutes.
A few weeks ago I was talking to a dairy farmer whose son wrestled in high school. His daughter is the wrestling team manager. He was telling me about two local wrestlers.
As he spoke, I started making comparisons to dairy producers. The first young man is almost technically perfect – not the strongest, not the fastest, but skillful. Years of wrestling training sculpted this young man into a true technician. His father is his coach and the athlete attended numerous wrestling camps since he was a child. He set lofty goals early and worked the greater part of his life to achieve them.
The other young man does not look like your typical wrestler with his larger frame. When suggested that he could drop weight to be more competitive at a lower class, he declined. Instead, he chose to participate at the weight his body was most naturally accustomed to. With athletic siblings, he knew the commitment it would take to succeed. His success relies on the speed and power in which he attacks on the mat in a body size that "feels right."
And how did these young men fare at the state wrestling tournament? The first young man won his fourth state wrestling title – only the 14th Wisconsin wrestler to accomplish this feat. The second young man also advanced to the state level and brought home a gold medal as well. Two wrestlers with different styles, but both used their unique skill sets.
So, how does this relate to producing milk? What lessons can be learned?
Set goals. They might seem far off and take a while, but they will be worth it.

Constantly work toward the goals.

Have mentors and seek outside expertise.

Know your operation and what things will work and what won't.

Have a solid support system of family (or employees in the case of a dairy) to help you reach expectations.
Your operation may be running well, but attending a conference or trade show might provide some insight into new technology or a management style that could benefit your dairy. Fellow producers may have struggled with an issue you now deal with. Look to others when expertise is needed. What works for one enterprise, may not be the best option for the neighbor. Figure out what works for you and find your own success.
---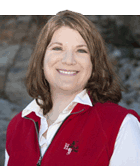 The author is the online media manager and is responsible for the website, webinars and social media. A graduate of Modesto Junior College and Fresno State, she was raised on a California dairy and frequently blogs on youth programs and consumer issues.