You kick off your shoes after a long day on the farm, take a quick shower and crawl into bed, knowing that you have to get up in two hours to check on a first-time heifer that is calving.
Sound familiar?
As a child, I can remember my parents getting up at all hours of the night to check on cows and heifers that might be calving. It was not uncommon for an animal to calve late into the night, and, like all dairy farmers, my parents wanted to make sure that the calf, along with the cow, was alive and healthy.
It was time for an update to our maternity barn. We decided to invest in a camera system that could be installed in the barn and allow us to have a full view of the expecting cows. Along with monitoring potential signs of labor, the camera could help assess the cow's comfort level and monitor the animal's feed intake.
The video would then be transmitted back to our house, allowing us to the view the animal on our television, phones, computer, or tablet to see if there were any signs of labor. The investment in the camera not only saved us some sleep, but it also helped to alert us if an animal was in trouble.
No more were the days of walking to the maternity barn late at night, sometimes trudging through harsh weather, to check on an animal that was not calving.
While the camera is an excellent tool, it should not replace the farmer's instinct. Sometimes an animal may appear to be content on camera while, in actuality, her labor may have stalled. However, when used as a second set of eyes, a camera in one's maternity barn can save time and labor.
---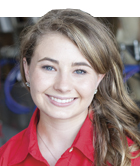 Taylor Leach grew up on her family's dairy farm in Linwood, Kansas. Leach graduated with an associate's degree from Kansas City Kansas Community College and now attends Oklahoma State University, majoring in animal science and agriculture communications. On campus, she is a member of the dairy club and also works on the university's dairy farm. Leach will be serving as the 2016 Hoard's Dairyman summer editorial intern.