Science has proven over the years that children who grow up on dairy farms run a lower risk of developing allergies or asthma problems. Apparently, I am an exception to this scientific data.
From a young age, it was clear that I had a pretty significant allergy problem. I was not able to shake out straw for calf hutches or even feed heifers hay without sneezing. As time went on, we hoped that my symptoms would improve, but my health declined and I was becoming more dependent on my medication.
To add to my problems, I was diagnosed with asthma a few years ago and discovered that I have an allergic reaction to the dandruff and saliva of dairy cattle. This certainly makes living and working on a dairy a difficult challenge, but it certainly is not impossible. Attending cattle shows is something that I am still very fond of, but I have to keep my health in mind whenever I am around cattle. Currently, I am battling a case of asthmatic-induced bronchitis, making daily farm chores slightly more difficult than usual.
So how do those of us who have allergies cope with living on a farm?
If you are passionate about it, you will find a way. In my case, I take allergy medicine daily and know when not to push my luck with my asthma. Participating in daily farm activities is something that I enjoy, but taking short breaks and staying away from some of my allergy triggers is also important.
While I have various reasons to stray away from the dairy industry due to my health issues, I continue to work in the field that I love. There are plenty of dairy farmers who share the same story as myself, and although we do not fit into the scientific research, we continue to work in the industry that we are so passionate for.
---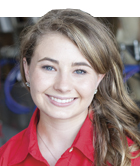 Taylor Leach grew up on her family's dairy farm in Linwood, Kansas. Leach graduated with an associate's degree from Kansas City Kansas Community College and now attends Oklahoma State University, majoring in animal science and agriculture communications. On campus, she is a member of the dairy club and also works on the university's dairy farm. Leach will be serving as the 2016 Hoard's Dairyman summer editorial intern.