Antibiotics have been an important part of dairy animal welfare for many years and have served as great tools for producers in battling various types of infections. That being said, the use of antibiotics, especially those pertinent to human health, has fallen under growing scrutiny. Meanwhile, more options are becoming available for preventing and fighting such infections.
The newest book from the
Hoard's Dairyman
bookstore,
Practical Organic Dairy Farming
, allows farmers to get their hands on tried and true methods for preventing and treating common ailments without the use of antibiotics.
The book, written by Paul Biagiotti, D.V.M., combines the intricacies of dairy cow health care with the welfare protocols of the USDA's organic program. In writing the book, Biagiotti calls upon 28 years of veterinary service in order to suggest academic as well as experiential recommendations for organic dairy farmers.
These concepts cover a wide variety of common ailments from mastitis and lameness to reproductive illness and pneumonia. The book also walks through each stage of animal life covering prevention, immunization, and treatment parameters for various illness and stressors most common to dairy calves and cows. Additionally, the 148-page book features standard operating procedures and immunizations for common herd health concerns.
Check out a sample of it
here
.
Although written with organic dairy farms in mind, this book reaches beyond the barriers of organic production with practical tips for commercial producers of all types as well as veterinarians and other farm team members. If you would like to learn more about the book or purchase it, visit the
Hoard's Dairyman bookstore
.
---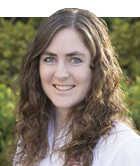 The author is an associate editor. She covers feeding and nutrition, youth activities and heads up the World Dairy Expo Supplement. Maggie was raised on a 150-cow dairy near Valley Center, Kansas, and graduated from Kansas State University with degrees in agricultural communications and animal sciences.