I've lived the majority of my adult life in Wisconsin, while all of my childhood was spent in California. Dairy breakfasts were not common in the Central Valley. A dairy day at the county fairgrounds promoted June is Dairy Month, but nothing like the dairy breakfasts throughout the Midwest.
1. Consumer Communication
All dairy producers are in the public relations business, whether they want to be or not. Consumers want to see and know the face of the farmer that produced their food. By attending these community gatherings, you can sit across from a young family as the mom asks you about your life on the farm and how you care for your cows. It is not a rehearsed speech, just people talking about life and food. She is not there to drill you with questions – she is just curious – and you have the answers.
2. Mental Vacation
There is an endless list of to-do items in spring – added to the daily tasks needed to care for livestock. But for just a few hours, you can pull out of the driveway and let those tasks wait until you return. The dairy breakfast is certainly going to be a gathering place for other dairy producers. There will be dozens of conversations about cows, corn, and kids. The excitement of talking about a recent graduation, a home run in little league, or a dance recital for a child or grandchild, even just for a few minutes, pushes aside the worries of milk prices, unpredictable weather, and the temperamental tractor.
3. Benefits Youth
Other than for dairy promotion, some dairy breakfasts serve as fundraisers for local dairy groups – most often for college scholarships. A few dollars for your meal may not seem like much of a contribution, but collectively those thousands of dollars from the event can make a difference.
4. Worth the Price
It's a great value! The meal and morning beverages – with milk, of course – are far less pricy than a meal at the local breakfast establishment.
5. The Food
And, with large crowds, food is constantly being made. That translates to a hot, fresh meal, usually pancakes, eggs, applesauce, cheese and sausage. And, sometimes, even ice cream as a treat!
Check your local events and make a plan to attend at least one dairy breakfast this spring and summer. I already have two on my calendar!
---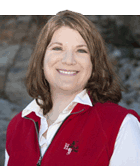 The author is the online media manager and is responsible for the website, webinars and social media. A graduate of Modesto Junior College and Fresno State, she was raised on a California dairy and frequently blogs on youth programs and consumer issues.