As farmers, we learn to always expect the unexpected. But when triplets arrive on the dairy, it is understandable to be in shock.
Surprised was my reaction when I received the news that triplets had been born at the Oklahoma State University (OSU) Ferguson Family Dairy Center. My fellow student employee, Leanne Van Der Laan, an OSU animal science and agribusiness junior, informed me of her eventful, yet rewarding day spent at the vets office delivering three healthy Holstein calves.
Leanne knew that there was a problem when little progress had been made as one of the Holsteins at the farm gave birth. She called her sister, Shannon Van Der Laan, an OSU animal science senior, to help her evaluate the problem. The two decided that it was time to call on the vet and loaded the expecting cow onto the trailer.
Upon arrival, vet students evaluated the cow and began to assist with delivery. First came a bull followed by a surprise heifer. Just when they thought the delivery was over, a third calf was discovered. Another healthy bull was welcomed into the world.
Three calves can come as a shock to any farmer, but both Leanne and Shannon handled the situation calmly and correctly. When they first noticed that the cow was having difficulty, they took action and hurried her to the vet. Once all of the calves were delivered, extra bags of high-quality colostrum were thawed and fed within three hours of birth. The dam also received extra attention throughout the day to ensure that she was on her way to a speedy recovery.
While triplets are a rare occurrence on any farm, never rule out the possibility of it occurring on yours. Take extra steps to make sure that both cow and calves are doing well, have extra colostrum on hand, and be ready to handle any health problems that may occur. Farming is full of surprises, are you prepared to handle three of them?
---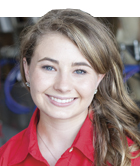 Taylor Leach grew up on her family's dairy farm in Linwood, Kansas. Leach graduated with an associate's degree from Kansas City Kansas Community College and now attends Oklahoma State University, majoring in animal science and agriculture communications. On campus, she is a member of the dairy club and also works on the university's dairy farm. Leach will be serving as the 2016 Hoard's Dairyman summer editorial intern.