It's hot, it's humid, and it's only the beginning of summer. And there is still a long way to go before we start to see the anticipated cooler temperatures of fall. While some might be enjoying the warmer weather, our calves, most likely, are not. How do we make sure that they remain comfortable during the intense summer heat?
Water is the most essential nutrient of them all. Without it, we cannot survive. Calves receive much of their water needs through milk consumption. Yet, they must still have enough clean water to replenish daily water loss through urine, feces, skin, and respiratory secretions. Within a few days of birth, calves should be provided with a clean, fresh water supply to encourage water consumption.
When temperatures begin to climb over 75ºF, more water may need to be fed to help keep calves cool. Water should be clean, cool, and changed daily. Younger calves may need water supplied through a bottle to make sure that they are drinking, while drinking water from a pail is recommended for older calves. Drinking from a pail may help to encourage earlier starter intake, which can assist in growth and rumen development. No matter what method is used to make water available, it is important that calves actually drink to help them stay cool.
During extreme heat, it may be necessary to provide additional water throughout the day. Growing up in Kansas, it could sometimes feel like the Amazon Rainforest in the middle of July. So, at a young age, my sisters and I were taught to provide cool, new water in the hot afternoons to help minimize heat stress and dehydration in calves.
Although the major ingredient in milk or milk replacer is water, milk or milk replacer alone is not enough to help keep calves hydrated during those warm summer months. While many of us focus on keeping cows cool, it is important that calves get a break from those long, hot summer days. Make sure that you are providing enough clean, fresh water to help calves quench their thirst.
---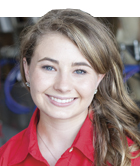 Taylor Leach grew up on her family's dairy farm in Linwood, Kansas. Leach graduated with an associate's degree from Kansas City Kansas Community College and now attends Oklahoma State University, majoring in animal science and agriculture communications. On campus, she is a member of the dairy club and also works on the university's dairy farm. Leach is serving as the 2016 Hoard's Dairyman summer editorial intern.