I'm not colorblind, but I only see black, white, and brown on my family's dairy operation.
Our 40-cow herd is made up of mostly Holsteins along with a few Jerseys thrown into the mix. Holsteins were the norm on our farm up until 1998, when I begged my parents to purchase a Jersey calf and add a little color to our herd. I still had an appreciation for our herd of Holsteins but quickly fell in love with the new breed. Recently, I have been exposed to other breeds of dairy cattle and have experienced the colorful world of the dairy industry.
While attending Oklahoma State University, I made friends with the former National Ayrshire Queen, Leanne Van der Laan, where she taught me more about her preferred breed of cattle. I was also able to connect with Zach Hollingsworth, a former OSU student who had begun introducing Brown Swiss to his herd. Although I did not know much about these two breeds of dairy cattle, I enjoyed watching both Leanne and Zach talk about their animals and explain some of the positive impacts that their breed has made on the dairy industry.
When I made the move to Wisconsin to pursue the
Hoard's Dairyman
editorial internship, I soon found myself hanging around a new breed of cattle, Guernseys. I quickly discovered the breed's unique personality along with some of the interesting history behind the animals' heritage. I never thought that I could fall for yet another breed, but once again I did.
Not long ago, I attended the National Shorthorn Convention in Dublin, Ohio, to cover some of the junior activities and breed association meetings. I knew very little about this breed of dairy cattle, but the American Milking Shorthorn Society welcomed me to their convention with open arms and helped me further my knowledge about their cattle. I discovered new facts about these animals and enjoyed learning more about the history of the Milking Shorthorn.
Although I am only familiar with raising Holsteins and Jerseys, I thoroughly enjoy learning more about the different breeds of dairy cattle. We are all dairy farmers and share one common goal: to produce safe, healthy, and nutritious dairy products to consumers. Yet, we do so with different colors and sizes of cattle.
I encourage you to get out and learn more about the different breeds whether it be from a breeder, traveling to a new place, or a different breed convention you haven't before. You just might find yourself falling for a different colored animal as well.
---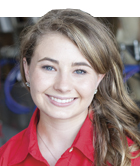 Taylor Leach grew up on her family's dairy farm in Linwood, Kansas. Leach graduated with an associate's degree from Kansas City Kansas Community College and now attends Oklahoma State University, majoring in animal science and agriculture communications. On campus, she is a member of the dairy club and also works on the university's dairy farm. Leach is serving as the 2016 Hoard's Dairyman summer editorial intern.