by Taylor Leach, Hoard's Dairyman Editorial Intern
Small, quiet, and shy. Those were some of the words that best described me as a young child. I preferred working with my animals and keeping to myself most of the time rather than participating in social interactions. These were not necessarily bad qualities to have, but I had a hard time making friends when I did not possess the courage to walk up and start a conversation. Becoming more involved with dairy youth activities, however, allowed me to branch out and opened up various doors of opportunity that I am forever grateful for.
I was "late to the party," so to speak, when I first started becoming more active with youth activities. I did not become involved until I was a freshman in high school, which was "old" compared to many youth throughout the country. My home state had a small dairy judging contest and quiz bowl competition each year, but not many other youth opportunities were provided. Our state would send a group of kids to the National Holstein Convention each year to take part in quiz bowl, dairy jeopardy, and public speaking contests. My parents encouraged my sister and I to attend the convention, hoping that this would help me make new friends within the dairy industry.
During my first convention, I was thrown out of my comfort zone of speaking to only 10 to 15 fellow Kansas junior members to socializing with over 100 youth from across the country.
I was a nervous wreck. Not only was I out of my comfort zone, but I was also in an area of the country that I had never explored before. I was scared, I was shy . . . but I ended up having the time of my life.
I toured new places, learned new things, and connected with new people who shared the same interests, some of whom I now consider to be lifelong friends. By taking the plunge and participating in these activities, I not only furthered my knowledge within the dairy industry, but I have also broken out of my shell. Doors of opportunity were opened, and I had the chance to participate in programs that led me down new paths and sparked career interests that I never fathomed before.
Looking back, I would encourage both shy and outgoing youth to participate in youth activities whether it is on the local, state, or national level. You never know just how much it will impact your life.
---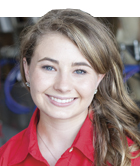 Taylor Leach grew up on her family's dairy farm in Linwood, Kansas. Leach graduated with an associate's degree from Kansas City Kansas Community College and now attends Oklahoma State University, majoring in animal science and agriculture communications. On campus, she is a member of the dairy club and also works on the university's dairy farm. Leach is serving as the 2016 Hoard's Dairyman summer editorial intern.