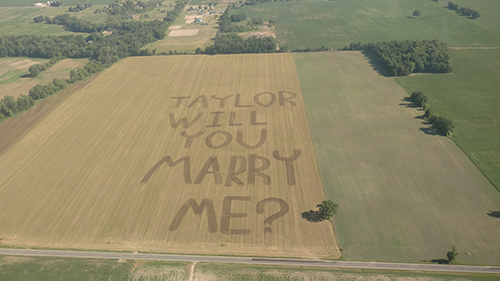 It may sound like a joke you would hear from a Jeff Foxworthy comedy show, but Aaron Risch wasn't joking when he asked Taylor, his girlfriend of nine years, to marry him.
The Risch Family Farm got started in 1937, when Aaron's grandfather received seven Holstein heifers as a wedding present. Those seven heifers eventually grew into a 300-cow dairy in Webberville, Mich., where Aaron now works alongside his mother, father, and two younger siblings. "We all work together, we all love cows, and we all love what we do," Aaron exclaimed.
Flash forward to 2007 when Aaron and Taylor met in high school. Taylor did not have a dairy background but appreciated the work that Aaron did for the farm. The two attended Michigan State University together, and Taylor, who graduated with a degree in mechanical engineering, is now working at an automotive supplier.
Aaron knew that Taylor was the girl for him. After bringing in the second cutting of alfalfa, Aaron and his younger brother went straight to work writing out a special question with 30,000 gallons of cow manure. The brothers used manure tanks to complete the project, driving at 6.5 mph over 40 acres for six hours. After a lot of planning and hard work, the message was complete, and it was time to pop the question.
So how did Aaron show Taylor the message? With a little help from his grandfather, who has a hobby of flying helicopters, Aaron was able to take a picture from the air of his creation. He got down on one knee, showed Taylor the photograph . . .
And she said YES!
Later, Aaron took Taylor to see his piece of art in person. The photo shows Taylor in the helicopter admiring Aaron's creativity. Only a dairy farmer would think of such an idea.
Those with a dairy background can appreciate Aaron's "crappy" proposal. It not only showed his love for his now fiancée, but it also showed his love for the dairy industry.
Congratulations to Aaron and Taylor!
---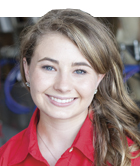 Taylor Leach grew up on her family's dairy farm in Linwood, Kansas. Leach graduated with an associate's degree from Kansas City Kansas Community College and now attends Oklahoma State University, majoring in animal science and agriculture communications. On campus, she is a member of the dairy club and also works on the university's dairy farm. Leach is serving as the 2016 Hoard's Dairyman summer editorial intern.