Ryan and Abby Johnson of Luck, Wis., have shared many nights of little sleep since they started their own dairy in November 2014. They have been busy tending to their herd of 70 Holsteins, two Jerseys, as well as raising their sons, Ryker, 3, and Newton, 2, and preparing for the birth of their third child, a daughter. Many hours of hard work and dedication have been committed to their operation, making its establishment and their journey into dairy farming no easy task.
At the age of 23, Ryan fixed up and rented his father-in-law's farm, which they utilized until he purchased his own just one year later. With his family's support, Ryan bought his father's six-stall step-up parlor that had been vacant for over two years and put forth the effort to get the farm up and running once again.
"The first year was the most challenging," Ryan said, as he listed some of the issues that he and his wife faced. Cold winters, wet summers, and older facilities put the couple's passion for dairy farming to the test. Even with all the challenges, he shared that the experience has been rewarding.
"It's nice to see calves that you started out with turn into cows and enter the milking herd," he explained. "We have also been able to maintain good production records with low somatic cell counts over our first few years."
As they continue on with their journey, both Ryan and Abby have several goals in mind to improve their small herd of cattle. Cow comfort is one area they would like to enhance. The family recently just completed a new freestall barn and is working towards installing more efficient fans to help keep cows cool during the humid Wisconsin summers.
Though the family has faced many obstacles and hardships during the past two years, they continue to remain positive. "Times have changed," Abby noted as she offered advice to other young farmers looking to get their start in dairy. "Take advice from your parents as well as others, but don't be afraid to try new things," she said.
This dairy family is sure to face more challenges along the way, but with family support and their continued positive attitudes, there is nothing that they can't handle.
---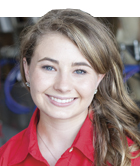 Taylor Leach grew up on her family's dairy farm in Linwood, Kansas. Leach graduated with an associate's degree from Kansas City Kansas Community College and now attends Oklahoma State University, majoring in animal science and agriculture communications. On campus, she is a member of the dairy club and also works on the university's dairy farm. Leach is serving as the 2016 Hoard's Dairyman summer editorial intern.