Guernsey Grand Champion
The old saying, "Better with age," certainly rang true in the International Guernsey Show at World Dairy Expo this year. The top two cows from the six-year-old and older class captured the Senior and Reserve Senior Champion awards before earning Grand and Reserve Champion honors.
The Grand Champion Guernsey was Flambeau Manor Ro Lauren-ET, owned by Gary Van Doorn of Tony, Wis. She received the Best Udder of the Show award as well. Lauren was also Grand Champion of Expo's 2014 Guernsey show.
Knapps Regis Tambourine-ET, owned by Austin and Landen Knapp of Epworth, Iowa, was the Reserve Champion. Tambourine was also named Grand Champion of the Junior Show.
Intermediate Champion Female was a senior 3-year old cow,
Guernsey Champions
Springhill Mentor Jazzy-ET. She is owned by Springhill Farm, Big Prairie, Ohio. The Reserve Intermediate Champion was Up The Creek Aarons Satin. The senior 2-year-old is owned by Karen Anderson, Lester Prairie, Minn. Knapps Best Buy Tamarinda, owned by Austin and Landen Knapp of Epworth, Iowa, won the 2016 World Dairy Expo International Futurity.
The Junior Champion of the show was Adams Creek AP Bianca-ETV, owned by Alyssa Nuttleman of Bangor, Wis. The Reserve Junior Champion was Milk Jugs Spider Cutie Pie, owned by Alexis Williams, Mabel, Minn.
The Premier Breeder and Premier Exhibitor banners went to Austin and Landen Knapp of Epworth, Iowa. The State Herd award was earned by the Wisconsin Guernsey Breeders. Indian Acres American Pie was named the Premier Sire.
The show was judged by Brian Behnke of Albany, Wis. Jason Danhof, Waukon, Iowa, was his associate. The duo evaluated the 208 Guernsey cows and heifers that paraded on the colored shavings.
Return to Hoard's at Expo
---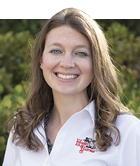 Abby Bauer
The author is an associate editor and covers animal health, dairy housing and equipment, and nutrient management. She grew up on a dairy farm near Plymouth, Wis., and previously served as a University of Wisconsin agricultural extension agent. She received a master's degree from North Carolina State University and a bachelor's from University of Wisconsin-Madison.