Grand Champion Ayrshire

Tears of joy flowed at ringside as the Grand Champion winner was announced by Judge Molly Sloan at the conclusion of the International Ayrshire Show. Margot Patagonie, the winning Aged Cow, was presented with Grand Champion honors. Patagonie was bred and owned by Ferme Margot of Ste Perpétue, Québec.

After the traditional playing of the bagpipes, shouts of excitement echoed in the Coliseum as Patagonie circled the ring with her new Grand Champion banner.

Judge Sloan complimented the Ayrshire breeders on their "Phenomenal quality from top to bottom," as well as upping their numbers by 22 percent, one of the biggest Ayrshire shows in years. With the conclusion of the 2016 World Ayrshire Conference taking place at World Dairy Expo, seats were full as Ayrshire enthusiasts packed the stands.

Meanwhile, Bear-Ayr Burdette Ray, winner of the 4-year-old class, was named Reserve Grand Champion. Ray was exhibited by Budjon Farms and Peter Vail of Lomira, Wis.

In the Junior Show, Cedarcut Burdette Clove Colata took Grand Champion honors for the second consecutive year. Colata, who was the winning 4-year-old cow, was bred and owned by Erin Curtis-Szalach of Cazenovia, N.Y. No newcomer to the Grand Champion stage, Colata and Curtis-Szalach will once again shine beneath the spotlight at the Supreme Champion Junior Show.

Scapeland DB Sicily, owned by Dacey Anechiarico of Whiting, Vt., was named the Reserve Grand Champion of the Junior Show. She was also the winning Junior 3-year-old cow and Intermediate Champion of the Junior Show.

In the heifer show, Judge Sloan selected Woodman Farm Lochinvar Adele, the first-place Winter Heifer Calf, as her Junior Champion at the International Junior Ayrshire Show. Stephen and Tyler Woodman of Claremont, N.H. own Adele. Spring-Run Prime Deedee, the winning Summer Yearling Heifer, was presented with Reserve Junior Champion honors at the Junior Show, and is owned by Rebecca M Vales of Wooster, Ohio.

GVP Dreamer Gabriella-ET, a Spring Yearling Heifer, was announced as the Junior Champion Ayrshire and is owned by David and Linda Hanson and Palmyra Farm of Hagerstown, Md. Meanwhile, Woodman Farm Lochinvar Adele, was also presented with the Reserve Junior Champion award.

Ferme De La Plaine of Ste-Franscoise, Québec, was given the Premier Breeder award while Vieux Village Florent Foley, Piopolis, Québec took home the Premier Exhibitor award.
Grand Champion of the Junior Ayrshire Show
---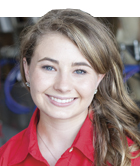 Taylor Leach
Taylor Leach grew up on her family's dairy farm in Linwood, Kansas. Leach graduated with an associate's degree from Kansas City Kansas Community College and now attends Oklahoma State University, majoring in animal science and agriculture communications. On campus, she is a member of the dairy club and also works on the university's dairy farm. Leach was the 2016 Hoard's Dairyman summer editorial intern.