4-H members from across the country — spanning Washington to Florida and Vermont to Mississippi competed in the 2016 North American 4-H Dairy Quiz Bowl contest held in Louisville, Ky. This annual event is the only national 4-H dairy quiz bowl event held each year and is a highlight for many dairy youth. I often hear, "National 4-H Dairy Quiz Bowl was one of my favorite 4-H activities!"
Each state can only send one four-member team, so there is a lot of preparation to earn the right to enter the national contest. A handful of teams hold state contests and send the winning county team. The majority, however, pool their very brightest from all corners of their state and create an all-state team to send to nationals, like New York.
New York 4-H: Emily Ooms, Randall Reinshagen, Caleb VanBuren. Seated are coaches Matt Young and Deborah Grusenmeyer, and Kieran McCarthy.
When you are on a roll, you just keep the momentum going. For the third year in a row, New York topped the competition. They not only won the team title, they had the two highest written exam scores, earned by Randall Reinshagen and Emily Ooms, respectively. This is also the third year in a row that New York has had the top two test takers as well.
Comparing states to New York's 13 wins, only three states, Illinois, Pennsylvania, and Virginia have four wins. New York has more total wins than the top three other states combined! Double wins can be claimed by Minnesota, Georgia, Ohio, and Wisconsin. Teams that have won one national title include Florida, Maryland, Massachusetts, and Washington.
The organizers and officials do a great job of hosting the event. It includes a pizza party and social to kick off the event. Participants are introduced to each other without the pressure of the pending competition. It is one of the best displays of positive youth interaction attached to a contest.
Another positive aspect of this contest is that the judges are all professors or extension agents. They have the technical and hands-on expertise to accept answers that may not always be found in a textbook. This is beneficial for youth with on-farm experiences who use their knowledge to correctly answer a question not initially found in the judges' binders.
Enjoy the slide show of all 19 teams that competed in Louisville, Ky., last weekend.

---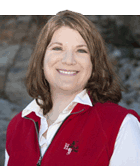 The author is the online media manager and is responsible for the website, webinars and social media. A graduate of Modesto Junior College and Fresno State, she was raised on a California dairy and frequently blogs on youth programs and consumer issues.