Our family farm has one problem in common with every other dairy farm in the U.S. We are contending with low prices for both milk and beef. On our farm, these two commodities generate 99 percent of our farm's income.
We have done a few things to stretch our budget. This includes reducing staff to the point that it is tough to schedule enough labor when an employee is sick or is on vacation. Before implementing this decision, I explained to our staff that we had to do some belt tightening, and I asked all to please work together to cover for anyone who needed off extra time.
In a second move, we are not making any large capital expenditures. That leads to more repairs than we normally do in the in the winter months. We are rebuilding some fairly worn equipment and trying to get a few more crop seasons out of these implements.
In addition to the low milk and beef prices, we are facing a serious drought in Georgia. Even so, we continue to plant crops and pray for rain. After all, in these tough economic times we still plan and prayerfully look toward our farm's future.
To plan for that future, we are spending more time than usual traveling to other dairies to see their operations. We are looking at their facilities and discussing improvements that they have made in farm infrastructure and alternative income streams on their farms. Things like agri-tourism, creameries, autofeeding calf barns, milking parlors, and voluntary milking systems.
We do not plan on any large capital expenditures in our immediate business cycle, but we are planning for the long-term future. We are developing short, intermediate, and long-term goals. We want to develop a site plan for the farm to identify buildings, silos, and old feedlots that need to be removed to make way for future improvements. This will allow us to use our current equipment. And, as we have the time, we can move earth, grade, and have site work completed for future facility construction.
Hopefully, the dairy and beef markets will rebound sooner than later. When that rebound arrives, we want to have our plans already decided on and have completed as much site prep as possible.
In the words of the great Louis Pastuer, "Chance favors only the prepared mind."
---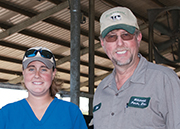 Mark and Caitlin Rodgers are dairy farmers in Dearing, Georgia. Their "Father and Daughter Dairy Together" column appears every other Thursday on HD Notebook. The Rodgers have a 400-cow dairy that averages 32,000 pounds of milk. Follow their family farm on Facebook at Hillcrest Farms Inc.