Most would consider working 365 days a year a curse rather than a blessing. Waking up in the early hours of the morning and working well into the night is not a feat that most are willing to take on. I, however, call myself lucky to work in an industry for which I have so much passion.
Though most days do not come without a challenge, I remain thankful for the blessings dairy farming has put into my life. After returning home from college, I took the time to ask my family why they are thankful to be dairy farmers.
My mother: "It is a great place to raise a family. I have been able to teach my children the value of hard work and responsibility while farming. It is rewarding to see my children follow in the footsteps of their grandparents."
My father: "I feel that having my kids work on a farm has made them appreciate the satisfaction that hard work is its own reward."
My grandmother: "I like the independence that dairy farming gives me. It allows me to do my own thing and be in control of my time. I enjoy being around cattle, being outside, and being at home with my family."
Erin (sister), 17: "I am proud to be a dairy farmer because I am able to help provide food for the world. I take pride in producing a healthy and nutritious product for others to enjoy."
Sophie (sister), 12: "I like being able to see the calves that I have raised turn into cows that I can be proud of. One of my favorite things is watching a newborn calf take those first wobbly steps."
As for me, I am thankful for those early mornings and late nights. I enjoy being able to watch the sun peak over the hills and set behind the trees, taking the time to reflect on my day. Though dairy farming comes with an infinite amount of challenges, there is no other place that I would rather be.
So as you come in from morning chores and gather around the Thanksgiving feast, ask yourself why you are thankful to be a dairy farmer. Just like my family, I am sure that you, too, will come up with a wide array of reasons.
---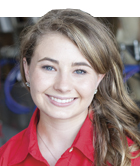 Taylor Leach grew up on her family's dairy farm in Linwood, Kansas. Leach graduated with an associate's degree from Kansas City Kansas Community College and now attends Oklahoma State University, majoring in animal science and agriculture communications. On campus, she is a member of the dairy club and also works on the university's dairy farm. Leach was the 2016 Hoard's Dairyman summer editorial intern.