Growing up exhibiting Brown Swiss dairy cattle at the World Dairy Expo is by far my favorite childhood memory. The lessons learned, the friendships made, and the memories created in Madison, Wis., are second to none.
However, I never knew I could have more appreciation for the dairy industry until I served as the National Youth Brown Swiss Ambassador at the International Brown Swiss Show this past October. It was truly an honor standing on the golden shavings watching the beautiful "big brown" cows parade through the Coliseum.
As I traveled back home to California, I reflected on my week and realized that every breeder, exhibitor, and attendee has a dream.
Throughout the show I watched exhibitors of all ages vie for the title of champion in their respective categories. I saw hundreds of Brown Swiss come through the ring those two days, each Brown Swiss and exhibitor came with a story. Of course, not everyone told me their story but I could sense the tension, excitement, and nerves by watching the exhibitors' faces.
When I heard the crowd roar with applause after each class, I felt the pride for the tremendous effort put in by the breeders and exhibitors. But I also shared in the disappointment of those who did not place as well as they had hoped.
A dream came true for me during the 50th anniversary of World Dairy Expo. Since the 3rd grade, my sister and I had strived to win a Junior Champion title in Madison. Each year we worked diligently with our show heifers by washing, walking, and training each to the gold standard. We accomplished this dream by winning with our Spring Calf, Gia, and were enamored. A memory I will cherish forever was handing the banner to my sister, Elisabeth.
All of us have dreams in life, but World Dairy Expo dreams are extra special and may include to win Grand Champion, to show a homebred animal, or to be an attendee at every show. However, my favorite part of World Dairy Expo is that each dream a person has is unique.
Although some dreams take years or a lifetime to accomplish, we grow as individuals and cow people along the way. As I celebrated 50 years of the world's greatest dairy show, I learned to celebrate both the dream and the journey. Sometimes the journey of a dream, rather than the destination, is the most rewarding experience.
---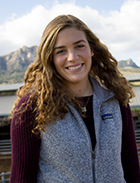 Elise Regusci grew up on her family's dairy farm in Modesto, Calif. Regusci attends Cal Poly University, majoring in dairy science with a communications minor. On campus, she is the Los Lecheros Dairy Club Ag Council representative and a member of the Cal Poly judging team. Regusci is the current Brown Swiss Youth Ambassador and will be the 2017 Hoard's Dairyman summer editorial intern.
---
December 12, 2016:
"Exploring how this year's forages will feed"
by John Goeser, Rock River Laboratory
Brought to you by QLF (www.qlf.com)
John Goeser, Rock River Laboratory, will discuss the campfire within the rumen, which in turn will help explain how and why crops feed differently. Due to a challenging corn silage and grain harvest, we will also explore potential nutrition robbing factors in this year's feed. Register here for all webinars.