My workday now starts at 8:00 a.m., but when I'm on vacation visiting my family's dairy in Kansas, it's a 4:00 a.m. rise time. That's not because my parents demand or even ask me to help with morning milking. It's because I can't think of a more relaxing way to start my morning.
Don't get me wrong, I'm not judging those of you who enjoy reading the paper and sipping your coffee or those, who like my two siblings, prefer to sleep away the budding morning. But, the most relaxing place I can find myself as the sun breaks the horizon is in the pit of my family's double-6 herringbone halfway through our first milking of the day.
As I stood in that exact spot on my recent trip home to Kansas, I enjoyed not only the comforting rhythm of the pulsators and smells of the barn, but also the warmth and comfort of reentering a piece of my childhood.
There I had stood in boots that reached my knees and oversized "work" clothes covered in cow manure. Some days I had enjoyed it; some days I had hated it, but every day I had learned.
I learned patience while waiting on older cows to make it to the holding pen. I learned about the art of milk production and the importance of monitoring each cow for signs of illness and signs of improvement. I learned about delayed gratification when being asked to finish calf chores before heading to the house for breakfast.
I found peace that can't be quantified in cups of coffee or hours of sleep.
That morning milking was and still is for me rising with the sun, caring for God's creatures, and bargaining with the breaking sun for just a few more moments of my quiet routine before the day hits and the typical daily concerns take over.
No matter where life takes me, those mornings spent in the barn will always be not only my favorite milking, but also one of my greatest teachers.
---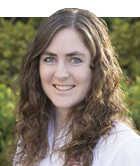 Maggie Seiler
The author is an associate editor. She covers feeding and nutrition, youth activities and heads up the World Dairy Expo Supplement. Maggie was raised on a 150-cow dairy near Valley Center, Kansas, and graduated from Kansas State University with degrees in agricultural communications and animal sciences.