We have come to a fork in the road here at Hillcrest Farms. Like I have said in the past, we are always trying to keep up with technology and stay at the forefront of our industry. Right now we run a 400-cow milking herd through a double-12 herringbone parlor. With that being said, the studies and information we have gathered show that changing the way we milk our cows will not only promote production but also make milking easier and more comfortable for our cows.
We have come to the conclusion that we have two options that lie ahead of us:
1.) We can update our parlor to make it a double-18 parallel with rapid exits so that we can milk our cows faster and get them back to the feed and stalls quicker.
2.) We can change over to an automatic or robotic milking system.
I was extremely skeptical about the robotic milking system when we first started to talk about it, mainly because down here in Georgia, you just don't see them . . . at all. So personally, I didn't know what to make of the idea.
We had people fly in and sit down to talk with us about them. We started to get a good understanding of how they work and how they would change the way we dairy. There are definitely some pros and cons to such a system, but it does seem to me to have a lot more pros.
It blew my mind when I learned about the technology that comes with this equipment. How it can tell if cows are pregnant, cystic, have mastitis, and so forth. I thought, "That's crazy!"
And then there is the double-18 parallel. This is our "comfort zone." Many dairies have them around here. We know how they work, and we would know how to manage this type of parlor very well. It would cut our milking time down by almost two hours a milking and we wouldn't have to change anything else on the farm other than the parlor.
Times are always changing, and technology is always advancing. And we are always left with decisions of what will make our farm work better. We hope that we make the correct decision that puts our best foot forward.
---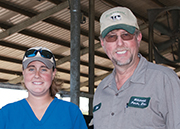 Mark and Caitlin Rodgers are dairy farmers in Dearing, Georgia. Their "Father and Daughter Dairy Together" column appears every other Thursday on HD Notebook. The Rodgers have a 400-cow dairy that averages 32,000 pounds of milk. Follow their family farm on Facebook at Hillcrest Farms Inc.
---
Join us on March 13 at noon CST for our next webinar, "Making use of all that parlor data" by David Reid, D.V.M.
The presenter will be David Reid, D.V.M., of Rocky Ridge Dairy Consulting. This webinar will review a Dairy Comp305 parlor performance summary, which provides insight into managing cows, people and milking equipment. The goal is to understanding what the numbers mean, how they are calculated, and how to use them to motivate employees.