Deciding what college to attend is not as easy as it looks as there are many factors to evaluate and consider. Spring is the season when thousands of young adults choose the college that is the best fit for them. Here are three areas to consider when choosing a university or college:
1. Location
For farm kids, it can be extra challenging to decide whether to move far away from the dairy or farm where they have spent their entire life. Being a few hours away from home allows for a quick trip to help on the weekends or during the busy calving season. Moreover, there can be large financial differences between in-state and out-of-state tuition and scholarships available.
2. Areas of study available
Consider what degrees are offered. Is there a degree that interests you and fits your future career goals? Programs with dairy science degrees have a dairy focused curriculum whereas a degree in agriculture offers a broader curriculum and more diverse set of classes.
3. Extracurricular activities
Dairy judging is an activity I knew I wanted to continue to participate in while in college. If that is also a goal for you, find a school with a strong, well-established dairy judging team and speak with the coach(es) to find out more information about their program.
Many schools have a club dedicated to dairy science. At my school, the dairy club is a place for students of all majors to gather who share a love for cows and the dairy industry. The family aspect of dairy club is comforting as many students move far away from home to attend school.
While there are many other factors that should be evaluated, these are the three that ultimately helped me decide where to get my undergraduate degree. In addition, touring different campuses, talking with former and current students, and checking out their social media pages, like Facebook or Instagram, can be helpful, too!
For a list of schools with a dairy or agriculture degree to start researching, check out these lists on the Hoard's Dairyman webpage:
2-year
programs
and
4-year
programs
.
---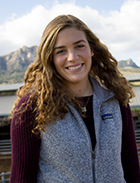 Elise Regusci grew up on her family's farm in Modesto, Calif. Regusci attends Cal Poly University, majoring in dairy science with an agricultural communication minor. On campus, she is the Los Lecheros Dairy Club Ag Council representative and a member of the Cal Poly dairy judging team. Regusci is the current Brown Swiss Youth Ambassador and will be the 2017 Hoard's Dairyman summer editorial intern.