It's July and that means my birthday . . . and National Ice Cream Month. Just a few decades ago, President Ronald Reagan selected this month to highlight America's dessert, because an estimated 90 percent of American's enjoy ice cream.
The International Dairy Foods Association (IDFA) conducted a survey among its members who make and market ice cream. They are members of the National Ice Cream Retailers Association.
Continuing its reign as the top flavor, vanilla holds a lead over chocolate, cookies n' cream, mint chocolate chip, and chocolate chip cookie dough.
An advantage of vanilla is that it goes with so many staples, like a hearty scoop on warm apple pie or served under root beer in a frosted mug. And nearly every place that sells ice cream has vanilla on the menu.
The common thread on flavors in positions two through five all contain chocolate. So, even though chocolate does not take the cake, collectively it certainly has plenty to celebrate.
If you want to jazz up your ice cream, the leading topping is pecans in the nut category and strawberries were the top fruit choice. In the novelty category, ice cream sandwiches were the winners.
I spent this past week visiting and working with my family on their West Coast dairy farm and ice cream could almost be considered its own food group.
We eat it with lunch and dinner daily. I also consumed a few ice cream sandwiches and had strawberries (with strawberry whipped cream) on my ice cream last night.
So, according to the research, my choices are in line with many of you.
There is plenty of July left, so grab yourself a spoon to celebrate!
---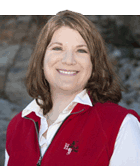 The author is the online media manager and is responsible for the website, webinars, and social media. A graduate of Modesto Junior College and Fresno State, she was raised on a California dairy and frequently blogs on youth programs and consumer issues.