I've always been proud of where I came from. Growing up on a farm is a unique experience that not every child gets the opportunity to have. While it may be a different lifestyle, farm kids get to live their parents' occupations day in and day out, which inspires many of them to become involved in agriculture. Read here to see how common it is for farm kids follow their parents' occupation of being farmers and ranchers.
This summer while interning at Hoard's Dairyman, I have been able to reflect more on where I came from and realize the things I miss about living on a farm. Time at home is where I fell in love with the agriculture industry . . . irrigating with my dad, talking about current trends in crops with my mom, and spending each summer showing dairy cattle with my siblings.
I am thankful for my years growing up on a farm that taught me many life lessons. As this summer is the longest I have been away from the orchard rows and Brown Swiss cows that I call home, I have noticed a few of the things that standout to me about myself and the youth who share the same upbringing as me.
From my summer travels to dairy farms in Ohio, Iowa, Michigan, and North Carolina, I learned that not all farms are run the same, but each dairy farmer finds ways that work for them. This has put our nation's diverse dairy industry into perspective for me. It also makes me appreciate the way my family's farm is operated and the daily business decisions they make.
Those of us who grow up on farms have developed a love for caring for livestock. Whether it is having the patience to feed a newborn calf colostrum or waking up at dawn every day of the week to tend to the daily chores, I miss the responsibility of taking care of cattle. In addition, the problem-solving and critical thinking skills I acquired on the farm have become helpful throughout my college education and internship.
If you're a young adult living away from your home farm for the first time, you might relate to what I am experiencing. For me, each time I pull back into my home driveway from now on, my outlook will be different than it was before this summer: thankful.
---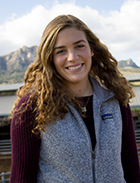 Elise Regusci
Elise Regusci grew up on her family's farm in Modesto, Calif. Regusci attends Cal Poly University, majoring in dairy science with an agricultural communication minor. On campus, she is the Los Lecheros Dairy Club Ag Council representative and a member of the Cal Poly dairy judging team. Regusci is the current Brown Swiss Youth Ambassador and is the 2017 Hoard's Dairyman summer editorial intern.
---
Join us for our next webinar on August 14, 2017:
"Driving dry matter intake on dairy farms
"
Join us for "Driving dry matter intake on dairy farms" as Mike Hutjens, University of Illinois, presents on Monday, August 14, at noon (Central time).

Dry matters intakes continue to be a leading contributor to calf growth, dry cow health, and lactating cow productivity. Hutjens will delve into the dry matter intake guidelines, including risks and rewards related to metabolic disorders, fertility, and milk production.The webinar is sponsored by Diamond V.