You've made it through the spring and summer shows with this year's show string. Whether you are going to more shows in the coming months or not, you've got a lot to be proud of. Getting a heifer trained, on the right diet, and ready for show day is a commendable feat. For those of you junior dairy cattle exhibitors preparing for higher level shows in the fall, it is important to remember the following tips to maximize success with the growing competition of national shows.
Know the pedigree and show placing history of your heifer(s) or cow(s) by heart. You never know who is going to come up to you and ask you dam/sire information or whether you bought or bred her. It may seem like an easy reminder, however if you are showing multiple animals it can be tricky to remember all these facts on the spot so make sure to review beforehand. Speaking from personal experience, I haven't always remembered every detail of my heifer's pedigree or show career and at times, it ended up embarrassing.
Mark when deadlines are for the overall class award applications, such as Junior All-American, on the calendar. It is much easier to fill out the forms if you give yourself a few weeks in advance to write out all your animal's show winnings. Take time to analyze and choose the best picture taken of her.
Listen for advice from industry experts. Some of the best advice on how to get my heifer to look its best in the ring often came from longtime show attendees. I still remember many of the words of wisdom they have given me.
You may not always agree with the judge, but whatever the outcome, it's important to win humbly and lose gracefully.
Happy fall showing!
---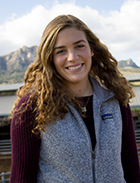 Elise Regusci grew up on her family's farm in Modesto, Calif. Regusci attends Cal Poly University, majoring in dairy science with an agricultural communication minor. On campus, she is the Los Lecheros Dairy Club Ag Council representative and a member of the Cal Poly dairy judging team. Regusci is the current Brown Swiss Youth Ambassador and is the 2017 Hoard's Dairyman summer editorial intern.