We started chopping our corn silage July 20 this year and finished chopping August 18. It has definitely been one of the longest silage seasons I have ever encountered. We planted a good bit more corn than normal, it rained a good bit, and we had some late corn planted as well. These factors all contributed to the extended silage making process. Still, this year and every year, we try to do everything we can to make sure the silage is chopped, packed, and sealed up to make the highest quality forage that we can.
Silage season and I have always had a hate/love relationship. I love working with my cows and heifers but when this season comes around everyone on the farm has to do a little extra and do some things we don't normally do on a daily basis; whether it be hauling silage to the pits from the field in one of the dump trucks, pushing silage in the pits, or packing the silage with our packing tractor.
When we begin silage everyone around is up and ready to go, wanting to get in the trucks or tractors. We typically will chop from daybreak until "papa gets tired"—my 81-year-old grandfather can just about outwork anyone on this farm. It is always nice to have to do something different, but let me tell you, by day four or five on a packing tractor, going back and forth a couple hundred feet anywhere from 12 to 14 hours a day, you feel like you start to go a little crazy.
When I was younger I didn't realize while I was "working" that I was getting to spend quality time with my dad, uncle, and Papa. Now that I am older, I realize that even on those long, tough days, that one day I will look back and get to appreciate the time spent with them. Even the embarrassing moments when I might not pull up quite close enough to Papa on the chopper, and when he goes to dump his wagon into my truck, a third of it hits the ground. It's hard for Papa to get mad at his granddaughter, so he just shakes his head and keeps on chopping.
I am learning to appreciate the good days and the tough days. I know one day I'll look back and miss those days spent with the people I love.
---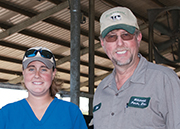 Mark and Caitlin Rodgers are dairy farmers in Dearing, Georgia. Their "Father and Daughter Dairy Together" column appears every other Thursday on HD Notebook. The Rodgers have a 400-cow dairy that averages 32,000 pounds of milk. Follow their family farm on Facebook at Hillcrest Farms Inc.