In search of a list of two-year colleges that offer degrees and certificates in agriculture? Look no further than the list Hoard's Dairyman complies. This list is a great resource for researching schools where information can be compared. In addition, updated contact information for each program is easily accessible in the directory. Every three years, the summer editorial intern reaches out to schools that offer two-year programs with agriculture or dairy related curriculum. We ask for program details and contact information about their school in our survey. The schools that responded to the survey can be found in the August 25 issue as well as on the
youth page online
. These colleges offer many dairy related activities from dairy judging to Dairy Challenge (pictured above). Over half of the schools surveyed have a dairy herd with a majority offering an agriculture club for out-of-class student involvement. The
updated 2017 list
can be found online on our youth page, ranked in order of state where they are located. The PDF version of the article, published in the August 25 issue, can be found on that page as well.
Four-year program
and
scholarship
information is available on the youth page, too.
As the directory will be updated again in 2020, additional schools can be added in the meantime to our online page. If you missed the opportunity to reply to our survey and want to be included on the webpage, please email contact information to
editors@hoards.com
.
---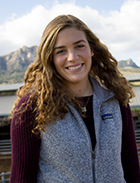 Elise Regusci
Elise Regusci grew up on her family's farm in Modesto, Calif. Regusci attends Cal Poly University, majoring in dairy science with an agricultural communication minor. On campus, she is the Los Lecheros Dairy Club Ag Council representative and a member of the Cal Poly dairy judging team. Regusci is the current Brown Swiss Youth Ambassador and is the 2017 Hoard's Dairyman summer editorial intern.