A trip to Madison, Wis., to attend the renowned World Dairy Expo is every dairy kid's dream. I have had the opportunity to travel to America's Dairyland a number of times to exhibit my Brown Swiss with my family. There I have been honored with some showring success, but the elite dairy cattle show holds a special place in my childhood for greater reasons.
Under the bright Coliseum lights, I learned the value of hard work, humility, and friendship. I have seen myself grow in my knowledge and love of the dairy cow. I have also met some of my closest friends there. My favorite memory from Expo is pictured above. I will always cherish this photo of my siblings and me walking to the ring with the best cow we had the opportunity to raise and show, Busy Bee Syndicate Jasper. Placing well with Jasper was definitely an amazing part of our family trips to Expo; however, this picture is a moment I will always remember. The anticipation, joy, excitement, and laughs we have shared over the years on these walks to the ring are worth more than the ribbons to me. Passing by the willow trees on the way to the showring, eating the well-known Expo grilled cheeses, and spending time with friends ringside whom I see at Expo each year are other fond memories. This year I will add a new memory of judging in the Intercollegiate Dairy Judging Contest, something that I've been looking forward to since I first started attending.
What are your favorite memories of Expo? The countdown is on as the 2017 show is only a week away! As we anticipate what this year's show will entail for the dairy industry and which prestigious cows will be crowned champions, reminisce on your favorite moments so far.
---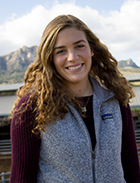 Elise Regusci grew up on her family's farm in Modesto, Calif. Regusci attends Cal Poly University, majoring in dairy science with an agricultural communication minor. On campus, she is the Los Lecheros Dairy Club Ag Council representative and a member of the Cal Poly dairy judging team. Regusci is the current Brown Swiss Youth Ambassador and is the 2017 Hoard's Dairyman summer editorial intern.