With a large crowd in attendance, Judge Keith Topp selected the champion cows after a strong cow show Thursday morning. After being named Reserve Grand Champion in 2013 and 2015, Top Acres Supreme Wizard-ET won the prestigious honor of Grand and Senior Champion of the International Brown Swiss Show for breeder and owner Wayne Sliker of Top Acres Brown Swiss in Ohio. Top Acres bred both the Grand Champion and Junior Champion of show.
The 2017 International Brown Swiss Show had a total of 317 cattle parade through the coliseum Wednesday afternoon and Thursday morning. Dean Dohle of Halfway, Mo., as Associate Judge, assisted Topp, from Botkins, Ohio. Premier Breeder and Exhibitor were Ken Main and Peter Vail of Elite Dairy.
For the young cow show, it was the pair of Senior 3-year-olds that took the top spots. Intermediate Champion and Reserve Grand Champion honors went to Cutting Edge Thunder Faye for owners Ken Main and Peter Vail of New York. Faye was Reserve Intermediate Champion at last year's show. Peach Kist Total Tango-ET exhibited by Lindsey Rucks of Florida was the Reserve Intermediate Champion.
Reserve Senior Champion was the first place 5-year-old, RNR Lebron Emily, owned by Ronald and Renee Michalovich of Lakeville, Ohio.
The winning Fall Yearling, Top Acres Braiden Wiza-ET, also owned by Lindsey Rucks, won Junior Champion. At last year's Expo, Wiza was the Reserve Junior Champion and is the daughter of the Grand Champion cow, Wizard. Fairdale Hill Braiden Shey-ET, the winning Fall Calf, was chosen for Reserve Junior Champion for owners Leslie and Linda Bruchey of Maryland.
Juniors were well represented throughout the show with Onword Lawman Vanilla winning Junior Champion of the Junior Show for Carter Kruse of Iowa. Reserve Junior Champion was West Winds Wonder Fancy exhibited by Milleanne Mullinix of Maryland. Grand and Senior Champion of the Junior Show was the first place 4–year-old, Top Acres Garbro Winner-ET, for exhibitor Jonathan Hubbard of Maryland. The second place 4–year-old, Cutting Edge T Delilah, owned by Kyle Barton of New York earned Reserve Senior and Reserve Grand Champion of the Junior Show.
Both Premier Breeder and Premier Exhibitor honors went to Ken Main and Peter Vail of Copake, N.Y. The Premier Sire was Blessing Jax Braiden-ET.
---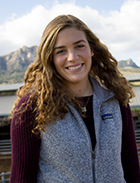 Elise Regusci grew up on her family's farm in Modesto, Calif. Regusci attends Cal Poly University, majoring in dairy science with an agricultural communication minor. On campus, she is the Los Lecheros Dairy Club Ag Council representative and a member of the Cal Poly dairy judging team. Regusci is the current Brown Swiss Youth Ambassador and is the 2017 Hoard's Dairyman summer editorial intern.