Since I am junior in college, I have had the chance to apply for summer internships for the past two years now. In my opinion, the most difficult parts of the process are identifying available internships and keeping track of application due dates.
Interning at
Hoard's Dairyman
was the best experience so far in my college career. Although it took a lot of courage and determination to move over 2,000 miles away from home, I saw myself grow as a person and further hone in o
n my career ambitions. I highly recommend having an internship during your college education. Here are a few pieces of advice for searching and navigating the internship process:
1. Keep track of the internships you find.
Scrolling through Facebook is an easy way to find internships in the dairy industry. Many companies promote their internship program through social media posts, videos, or photos. Have a company in mind that you want to work for? Their social media channels and website probably has the most up to date information. Once I see or hear of a company that I think I would like to apply at, I add them to a spreadsheet on my computer with name of company, website links, deadlines, and so forth. This way I have a list of where I have applied and when the applications need to be submitted.
2.

Network, connect, and seek out.
Tradeshows, like World Dairy Expo or the World Ag Expo, are great places to ask companies if they have an internship program. Ask peers at your college where they find internships or if they have heard of any that fit your interests, from genetics to sales to communications. If you are interested in a certain business but there is no internship information online, reach out to the company and ask.
3.

Use on-campus resources and online tools.
My school has on-campus career fairs regularly throughout the year where companies come to the school to recruit students. The career center at your school may have similar events. In addition, check with your major's department for postings of internships. A great list of companies with dairy internships is available through the
National Dairy Shrine
.
---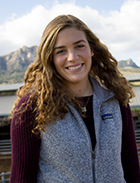 Elise Regusci grew up on her family's farm in Modesto, Calif. Regusci attends Cal Poly University, majoring in dairy science with an agricultural communication minor. On campus, she is the Los Lecheros Dairy Club Ag Council representative and a member of the Cal Poly dairy judging team. Regusci is the current Brown Swiss Youth Ambassador and is the 2017 Hoard's Dairyman summer editorial intern.