Since 1986, the American Farm Bureau Federation (AFBF) has compiled an annual summary of the cost to prepare a Thanksgiving meal. Each year volunteer shoppers purchase items and report their expenses to the AFBF. The data from the states (this year it included 39) is pooled to create individual state and national reports.
The shopping list contains turkey, stuffing, sweet potatoes, rolls with butter, peas, cranberries, carrot and celery relish tray, pumpkin pie with whipped cream, and beverages of milk and coffee. The meal cost is prorated to serve a "typical" gathering of 10 guests. This year that grocery bill totaled $49.87, giving each person a hearty meal for $4.97.
Farm Bureau reports the cost has declined by 54 cents since last year, but Consumer Price Index (CPI) shows a slight increase. Turkey, milk, sweet potatoes, and peas were down slightly while whipping cream, stuffing, pumpkin pie mix, and fresh cranberries saw a modest increase over last year. Either way, we are talking pennies.
Why was milk price down, but whipping cream up? The growing trend of full-fat dairy products has shown an uptick in grocery receipts. And at my Thanksgiving, we (families of dairy farmers) add cheese trays and ice cream to really drive home the love of great tasting dairy products.
For those who choose not to partake in the Thanksgiving meal preparation calisthenics, supermarket and take-out restaurants are charging in the $50 to $75 range for a similar meal. However, if you choose to dine-out for turkey, expect a bigger hole in your pocket.
And while a burger, fries, and drink for under $5 is hard to find these days, this Thanksgiving meal does just that. Combine the meal with family, friends, and plenty of leftovers, you've got great deal more for your money! Enjoy yours.
---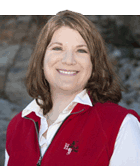 Patti Hurtgen
The author is the online media manager and is responsible for the website, webinars, and social media. A graduate of Modesto Junior College and Fresno State, she was raised on a California dairy and frequently blogs on youth programs and consumer issues.