No matter what holiday you celebrate, the next few weeks just exude hopefulness for the new year to come. It's my favorite time of the year. Everyone is filled with holiday cheer and a little extra gratefulness for the things and people that make their lives exceptional.
Along with that, will come a flood of social media posts asking the public to thank a farmer for their Thanksgiving and Christmas meals. They'll explain how farmers take good care of their animals and land to produce a good quality product. A few will mention that most farmers will postpone their personal family meals and traditions, so the rest of the world can participate in their own. Each one of them is right and I'm sure I will post at least one, if not two or three, to the same tune. But how often do we say thank you?
There's often this bitterness in our mouths when it comes to the lack of appreciation that most of the population shows toward our efforts. I feel it. But then I think about how often I say thank you in an average workday and am slightly ashamed.
I routinely ask consumers to #ThankAFarmer, but when's the last time I sincerely thanked our milk truck driver, Harry? How often do you thank the people you work with just for showing up every day? What about your neighbors? Do you routinely thank them for putting up with the late-night harvesting or occasional extra mud on the road?
I have to admit, it's almost awkward for me to say thank you to someone for simply doing his or her job, but in this life, dairy farming, that's a huge deal. Knowing that the people who support us are doing the jobs they're meant to do, and doing them well, is everything.
So, take advantage of the season! Send Christmas cards with an extra thank you to all of your vendors or make them each an ornament with their name written on it. Or who doesn't love Christmas cookies? Each farm associates with dozens of businesses throughout the year and each play its role in keeping us moving, if you haven't before, now is the perfect time to thank them for that.
Each time you ask your friends and family to #ThankAFarmer this holiday season, remember to be a #ThankfulFarmer, too.
---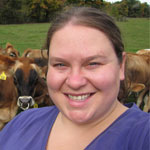 Jessica Peters
The author dairies in partnership with her parents and brother at Spruce Row Farm in Pennsylvania. Jessica is a graduate of Pennsylvania State University, and since 2015, she has been active in promoting dairy in her local community. You can find her and her 250 Jersey cows on Facebook at Spruce Row Dairy or on Instagram at @seejessfarm.