From a young age, I knew I wanted to study agriculture in college. During my youth, my involvement in dairy judging, showing cows, FFA, among other activities in the dairy industry, lead to my decision to choose a college with a dairy science major. As many universities have animal science majors, I wanted to find a school that I could concentrate the majority of my classes in dairy. I love being a dairy science major because I get to focus on the industry that I am interested in pursuing a career in. But I am glad I choose an agriculture major even more for these reasons:
Labs. A huge portion of agriculture science based classes feature labs. A 2-3-hour period of each week where topics from the lecture are brought to life. This also means I get to spend time on the on-campus dairy learning hands-on activities about herd health, nutrition, and management practices.


Students I can relate to. Many of my classmates in my agriculture classes were involved in the same activities I was in high school like FFA or the Holstein Association. Growing up on a farm or ranch is another common trait of some of my peers. These classmates understand where I came from and can relate to my life.


Agriculture classes. As I am a dairy science major, I take primarily classes relating to the dairy industry. But, to fill my course requirements for graduation, I can pick from a list of approved electives. Many of these electives are classes within other agriculture majors like agribusiness, agricultural communication, crop science, agricultural engineering, and more. I get the chance to learn about other industries within agriculture that have expanded my view of industries other than dairy. I am more knowledgeable about areas of interest that students of other majors in my college focus on.
I am glad I chose to be an agriculture major as I feel at home with my peers, all while learning about an industry I care about each day.
---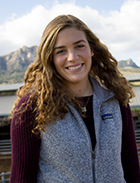 Elise Regusci grew up on her family's farm in Modesto, Calif. Regusci attends Cal Poly University, majoring in dairy science with an agricultural communication minor. On campus, she is the Los Lecheros Dairy Club Ag Council representative and a member of the Cal Poly dairy judging team. Regusci is the current Brown Swiss Youth Ambassador and is the 2017 Hoard's Dairyman summer editorial intern.
---
The webinar "Troubleshooting mastitis and milk quality problems" will be held on Monday, December 11, at noon (Central time) Have you ever wondered why some herds have few mastitis cases and others have many? In this webinar, Paul Virkler, Cornell University's College of Veterinary Medicine will outline some differences and explore how you can evaluate your dairy, looking for opportunities to prevent this costly disease. Register at
www.hoards.com/webinars