If you're a dairy farmer and you have a social media account, then I bet you are a part of either a group or follow a page relating to agriculture. With the rise in popularity of social media, more farmers and ranchers are signing up to connect online from everything to Facebook to Instagram to blogging websites.
Not only do these social media platforms allow for agriculturists to share their story, but it helps those working in the industry to learn from each other. I see these social media posts and photos focused around two target audiences, either another farmer or the consumer of our products.
Farmer to farmer
From Facebook groups to Instagram posts, farmers connect with other farmers through their social media accounts. Reaching out to other farmers for advice or for help in a difficult situation is one way I have seen the impact of social media in our day and age. Multiple pages I follow ask questions to their readers from time to time. The discussion that follows can be insightful and educational. Farmers also support each other through their posts and share news in the industry.
Farmer to consumer
An easy, simple way to reach consumers is to post on social media about your farm or role in agriculture. Focusing on a popular (maybe even controversial) topic in agriculture in social media posts will allow for a spark in the discussion. Since social media is a free tool available across the world, an agriculturist's message can spread quickly and make an impact. Views can be changed and sharing your story helps consumers understand a little more about the world you come from.
---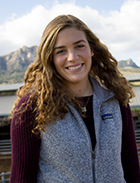 Elise Regusci grew up on her family's farm in Modesto, Calif. Regusci attends Cal Poly University, majoring in dairy science with an agricultural communication minor. On campus, she is the Los Lecheros Dairy Club Ag Council representative and a member of the Cal Poly dairy judging team. Regusci is the current Brown Swiss Youth Ambassador and is the 2017 Hoard's Dairyman summer editorial intern.