Are you college bound next fall? Planning to attend graduate school to continue your education? Applying for scholarships to assist in funding your efforts can be well worth the time put into filling out the applications.
Some applications can be tedious, long, and a lot of work to keep track of. However, I have found in my experience that applying for scholarships is well worth the time of interviewing and searching for the awards. I am thankful for the scholarship donors that have helped me with my education.
1. Where to find dairy scholarships?
The Hoard's Dairyman list of scholarships is where I looked when I was a senior in high school. Also, check out your school or college's department for scholarships the school gives out or knows of. The National Dairy Shrine awards scholarships for different career interests and for students entering college, in their undergraduate education, or in graduate school as well.
2. Pay attention to eligibility.
Most scholarships have specific guidelines on who can apply for them. This may include year in school, major, career interests, or an affiliation with a club or organization. Contact the scholarship coordinator if you are unsure if you are eligible.
3. Apply multiple times.
If you are not awarded a scholarship after applying, it won't hurt to submit your application again next year! A few scholarships are renewable, so you might have to resubmit your transcripts or letter of recommendations to get the scholarship again.
---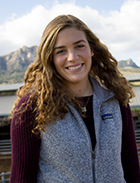 Elise Regusci
Elise Regusci grew up on her family's farm in Modesto, Calif. Regusci attends Cal Poly University, majoring in dairy science with an agricultural communication minor. On campus, she is the Los Lecheros Dairy Club Ag Council representative and a member of the Cal Poly dairy judging team. Regusci is the current Brown Swiss Youth Ambassador and is the 2017 Hoard's Dairyman summer editorial intern.