I was watching the
Land O'Lakes Farm Bowl
via the internet yesterday to see how the professional football players and farmers fared in this obstacle course. The three hosts included two sports reporters (from ESPN and CBS) and a singer/actress.
I thought to myself, these celebrities were going to host a show and provide commentary while the farmers and football players were working their way through the course? What did they know about agriculture? How close are they to farming? A whole lot closer than I, or anyone, probably expected.
ESPN's Marty Smith was raised on a beef ranch in Virginia and spent summers until he was 24 years old stacking hay. Now, he owns a farm with Angus cattle. Okay, so that is one of the three.
Then I learned the female reporter, Allie Laforce had grandparents with a 250-dairy dairy farm in Ohio. And the manner in which she recalled her upbringing, you knew she had great pride in her heritage. She shared that she wanted to "Reconnect us all with the land and agriculture," "inspire our youth," and "get us excited about farming and show the latest technology in the industry" as she kicked off the Farm Bowl competition.
Jordin Sparks, an American Idol winner, completed the trio. While her dad was a professional football player, her grandparents on her mother's side own farmland in North Dakota.
It was refreshing to see individuals with ties to agriculture were selected for this agricultural promotional event. It was unlikely that a tried-and-true farmer would serve as host, but the selection was as good as we could have hoped.
It got me thinking . . . While only 1.4 percent of the population is in production agriculture, we have more allies and supporters than we really think. Those that oppose our views often are the most vocal, but there are the silent supporters with a bridge to agriculture that we don't even think about.
In our local Lions Club organization, members are aware that I work for a dairy magazine and spend my vacations milking cows. There are not any active dairy farmers, but a handful of the members that I have interacted with at recent club events all have ties to dairy farming – strong ties. They include a retired dairy farmer, previous dairy herd manager, granddaughter of a dairy farmer, and son of a dairy farmer. But, what do they do now? They have "ordinary" jobs as business owners and those working in non-ag industries.
I was not looking to find a dairy connection with to my fellow members, but through conversations, we learn about people and their backgrounds. It just happens that they all seemed to have dairy in their pedigrees. Maybe because we live in "America's Dairyland," the connection was inevitable.
But, I wonder why it took over a year to find our common ground? Typically, if I am at any event and someone says they are from a farm, lived in a state where I used to reside, or had a similar experience, I typically will talk to the person about our connection.
But, in this case, why not? Were their memories of farm life not positive? Do they recall the hard physical labor and long hours they endured? The absence of vacations, time off, or lack of extra funds to reward their efforts? Do they recollect the visions of hand milking and no pipeline and relate it to food safety? Or, was it too long ago and things have changed so much that they don't want to embarrass themselves with their lack of current industry jargon and happenings? Or, maybe they just miss the happier times. Who knows for sure, but they still have a real link to agriculture.
So, next time we think no one "out there" understands farming, there very well could be those who have experienced it, but have not ventured to share their stories and connections with you. With the number of people in production agriculture always declining, we may need to reach back and bring those that have a distant connection and bring them closer to our industry.
---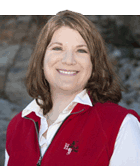 Patti Hurtgen
The author is the online media manager and is responsible for the website, webinars, and social media. A graduate of Modesto Junior College and Fresno State, she was raised on a California dairy and frequently blogs on youth programs and consumer issues.