A couple years ago, after we realized that the Margin Protection Program for Dairy (MPP-Dairy) wasn't going to offer us any meaningful protection, we created our own self-funded insurance.
We took the dollars we would have spent on an MPP-Dairy premium and set them aside in a money market account (aka the "Oh Shit Fund").
We set the fund up to automatically withdraw a deposit from each milk check. And then we forgot about it.
Turns out, the old bit of business wisdom about saving money is true. What you don't see, you don't spend.
Fast-forward to now, our fund has grown quite nicely.
I wish savings accounts weren't the only things that grow best when you forget about them.
Better borrowing . . .
Since we farm with minimal acres, we buy a lot of our feed.
In addition to dry hay and corn silage, we pre-buy dry corn. This allows us to lock in the lowest price possible. That helps us manage our margins.
We use short-term loans to buy the dry corn. For the last two dry corn purchases, we were able borrow against our "Oh Shit Fund." The incredibly low interest rates on cash-secured loans reduce our price-per-bushel for corn even more.
For a while there, we felt like rather business-savvy dairy farmers.
Emergency cash . . .
Then, we had a few unbudgeted purchases this fall. And the milk price headed south.
All of a sudden (or at least that's how it felt), our checking account was in the "oh shit" zone.
To put it delicately, we started to stress about our financial situation.
"We do have the 'Oh Shit Fund,'" I reminded my husband.
After all, we created the account for times like this when margins are tight. At that time, we decided not to use the fund.
But then we needed to buy a load of milk cow hay.
It sure was nice to pull up my credit union app and, with two taps, make funds available for the hay purchase.
At the same time, I wish it wasn't necessary at all to rely on the fund.
I try not to worry about whether or not we'll need to dip into the fund again. I'm certainly glad it's there, but I don't know how long it will last if it becomes a regular supplement to our cash flow.
---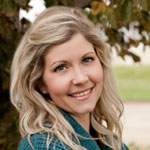 The author is a dairy farmer and writer from central Minnesota. She farms with her husband, Glen, and their three children. Sadie grew up on a dairy farm in northern Minnesota and graduated from the University of Minnesota with a degree in agricultural communications and marketing. She also blogs at Dairy Good Life.