My dad and I have been writing for the Hoard's Dairyman blog together as a team for a while now. We have written plenty of blogs on advocating, milk prices, robots, crops, and so forth . . . but I don't think that I have actually dug deep on what it is actually like to work with my father.
I am going to share some of those moments with you guys in this blog. Hopefully, it will strike a chord with some young people who are considering a return to the farm after getting their education.
When getting ready for college, my father told me to apply and start out in a degree different than anything relating to the dairy. He knew I had interest in nursing, seeing how my mother and stepmother were in the medical field. So, I started out majoring in nursing.
This lasted all of about a half a semester before running to my adviser's door asking for my major to be changed. Although I knew right off the bat this wasn't for me and agriculture was screaming my name, I am thankful that my dad pushed for me to start out as a nursing major. It made me realize very quickly what I truly wanted to do in life. Also, this made sure that I would never look back and ask "what if?"
Returning home from college, I was full of readiness, ideas, and excitement. I hit the ground running, pushing for dad to revolutionize his strategies and everyday tasks. As most of you know, telling a middle-aged farmer who is set in his ways to do something differently is like having a full-blown conversation with a brick wall. He might listen to you, but that doesn't mean he is going to change anything. While this was somewhat aggravating, it did teach me patience and that I had to earn respect.
If you think working with family is wonderful, you are correct. But I'm not going to paint you a beautiful picture that everything is perfect because it's not. I have had my feelings hurt, and have been so mad I couldn't see straight. I even quit one time for a couple of days before thinking, "What in the world am I doing?" I ran straight back.
Farming is already a hard career, and then you add family into it. If anyone can make you lose your cool, it is family members. What I am blessed about is that I spend quality time with my family. I spend more time with my grandfather than most because he still works out here with us at the age of 82.
I get to listen to him, my uncle, and my dad tell stories about how the farm used to be. Of course, in their stories they always tell me that before I was born, they worked "8" days a week and "366" days a year, in the snow, and everywhere they went was apparently uphill. Needless to say, apparently I have it a lot better than they did!
All jokes aside, through the laughter, cries, and exhaustion, I have to say the memories I will gain from this life I have been blessed with are worth every second. I could not imagine doing anything else than working on the farm with my family.
---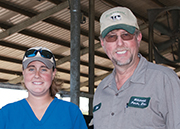 Caitlin & Mark Rodgers
Mark and Caitlin Rodgers are dairy farmers in Dearing, Georgia. Their "Father and Daughter Dairy Together" column appears every other Thursday on HD Notebook. The Rodgers have a 400-cow dairy that averages 32,000 pounds of milk. Follow their family farm on Facebook at Hillcrest Farms Inc.
---
Our next webinar:
Consultant Jack Britt will present "Dairying 50 years from now" on Monday, March 12, at noon (Central time). Dairying will change greatly by 2068. Climate and populations will shift where farms are located across the globe. Technologies associated with robotics, epigenetics, and microbiomics will improve cow health and double yields of milk solids. The webinar is sponsored by DeLaval Inc. Register here.