I've always been a big fan of March Madness. Initially it was because of my interest in the sport of basketball and my propensity for cheering for my team — the K-State Wildcats. As I got older, my attraction to the crazy couple weeks of basketball changed.
I am drawn in every year by a story of an underdog, a story of a fighter, or a story of a player that laid everything on the court for his or her team.
That's what we love about sports, right? It's the personal commitment and investment in that one moment — that moment that anything can happen, everything is there to gain, and more is available to lose.
A few weeks back, I was standing in the pit of my parent's dairy barn helping with an early morning milking and feeling exactly the same way as I do during March Madness. I've written before about some of the lessons that my childhood in that barn taught me.
Standing there as another wave of nostalgia washed over me, a different thought ran through my head.
This is what I'm fighting for.
I know this year has been tough. I know because I've lived it, listening to my parents, listening to my friends, and fielding calls from our readers. I know because of the milk price numbers and predictions, and yet that little Cinderella story nags in the back of my head.
This is what I'm fighting for.
Because when it's personal, it matters. I heard a speaker a couple of weeks ago at a conference, and he said, "If you've never cried at work, you don't care."
I know many farmers who have. I know farmers who have fought, who have left everything "on the court", and I know Cinderella stories that have ended in failure and ended in success.
But every time I hear another one, I can't help myself; I cheer for that underdog. And you know what, I will keep doing it, even if it isn't logical, even if they won't always win. It goes against my nature to do anything else.
---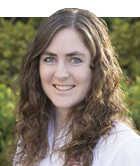 The author is an associate editor. She covers feeding and nutrition, youth activities, and heads up the World Dairy Expo Supplement. Maggie was raised on a 150-cow dairy near Valley Center, Kansas, and graduated from Kansas State University with degrees in agricultural communications and animal sciences.