This year we had the opportunity to host a group of food bloggers from across the U.S. It was fantastic!
As a producer who ships to Land O Lakes, I get to be a part of many different opportunities. It is a whole different world than the rest of us are used to but I enjoyed it immensely. During the event my wife and I got to socialize over meals and talk about anything under the sun. The majority of the conversations had nothing to do with dairy and that was okay. Sometimes making a lasting impression starts with getting to know someone.
The tour we hosted on our own dairy. It started out with a gorgeous lunch at a farm table under a white tent alongside the biggest tractors I could find parked next to the oldest tractors we owned.
From there we took a little ride down the road and started a tour that began in the milk barn and worked its way through the young stock. All the while they got to hear about the how important animal comfort is to us, as well as the relentless measures we take to ensure a safe, wholesome product.
After we toured the livestock, we took a stop at the commodity barn where they were introduced to all the ingredients that make up the balanced, nutritious meals we provide for our cows.
After the commodity barn I had one more surprise for them. Hidden behind a row of hay bales were three newborn calves ready to eat. I have never seen a group of adults more giddy! This by far was the highlight of the trip for both of us. To see how excited they were really made my day.
If you ever have the opportunity to host a tour, do it, but do it right. Remember that your dairy may be the only dairy they ever see and when someone mentions dairy they will think of your place. I have never regretted a tour yet and I look forward to the next opportunity to represent our industry, bridging the gap between farm and table.
Bloggers, from left to right: Hummingbird High, Hip Foodie Mom, Nibbles and Feasts, I Wash You Dry, Macheesmo, Muy Bueno. ( Not pictured: Well Plated and What's Gaby Cookin')
---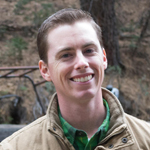 Tyler Ribeiro is a fourth-generation dairy farmer born and raised in California. He is currently partners with his father at Rib-Arrow Dairy in Tulare where they proudly ship their milk to Land O'Lakes. Tyler is actively involved in the dairy industry, holding leadership roles in various organizations locally and across the United States.