School is finished, it's getting hot and humid outside, and summertime fun time is here in Georgia . . . well, almost. About three weeks ago, kids were getting ready to get out of school, weather was becoming hot and sunny, and the summertime itch was hitting everyone. I have to say, that itch is still grasping to get a hold of most people around here.
Lord knows we love the rain, and we are grateful, thankful, blessed, and every good word that I can possibly come up with . . . but when I tell you it feels like it has rained like it did with Forrest Gump in Vietnam for the last month, I mean it! We have seen hard rain, soft rain, flooding rain, sideways rain, and yes, at times when you are knee high in water, rain that comes from underneath.
We have had years that we prayed so hard for rain. I have seen the droughts around here get pretty bad. I can remember many meals where we sat and thanked the Lord for our food and then sat there for a few more good minutes asking Him for a little rain.
I have seen posts on all sorts of social media from different people talking about how they wish it would quit raining. And who doesn't like to feel a little sunshine? I know I do. But at the end of the day, I know that the glass is half full. Our irrigation ponds are getting filled up for the summer, our corn is jumping in height, the lake is full, and the grass is green.
One thing is for sure — all of the farmers are extremely happy right now, and we couldn't be more blessed. It may be a little damp outside, but smile and always think of all the good the rain has brought!
---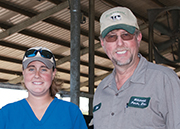 Mark and Caitlin Rodgers are dairy farmers in Dearing, Georgia. Their "Father and Daughter Dairy Together" column appears every other Thursday on HD Notebook. The Rodgers have a 400-cow dairy that averages 32,000 pounds of milk. Follow their family farm on Facebook at Hillcrest Farms Inc.