When it comes to Jersey leaders, Maurice "Maury" Core and William "Bill" Ahlem, Jr., would be considered first-ballot Hall of Famers. For that matter, that honor would extend to the global dairy industry. I had been to Mr. Ahlem's farm on a number of occasions, while I was blessed to count Maury Core among my mentors during his second career as executive secretary of National Dairy Shrine.
Forged new ground
With Jim Cavanaugh at the helm as executive secretary of the American Jersey Cattle Club, Maury Core flourished in developing new programs. Core was "an avid supporter of the All American Show and the Jersey Jug," wrote Neal Smith, executive secretary for the American Jersey Cattle Association. He served as coordinator for those events from 1959 to 1985. Core went on to be the very first coordinator of the Jersey Marketing Service. "The first National Heifer Sale happened under his leadership in 1971 in Reno, Nev.," said Smith. "The first All American Sale occurred that same year in November, too." A proven leader, Core served as executive secretary for the American Jersey Cattle Association from July 1985 to December 1993. In doing so, Core filled the legendary shoes of Jim Cavanaugh just as Aaron Rodgers had done by succeeding Brett Favre as quarterback of the Green Bay Packers. Yes, Core was that good. All told, Core served Jersey organizations for 37 years.
Core's next career
If you were to look up the definition of servant leader, Core's picture would be in Merriam-Webster's dictionary. After retiring from Jersey circles, Core served as executive director of National Dairy Shrine from 1997 to 2008. His wife, Carol, was his close confidant in promoting the organization. To read our 2009 interview with Maury Core,
click here to download
, "He is Mr. Gracious."
Among the world's best Jersey breeders
The Ahlem Farms Partnership has sold some of its very best cattle in premier national sales. And those cows went on to become outstanding performers for their new owners. At their 2006 sale on the California farm, 196 lots averaged $3,000. The 119 first- and second-lactation consignments garnered $3,200. Leading that vision was Bill Ahlem and his wife, Carolyn. A man who recognized talent, Ahlem tapped Ed Fischer to head up his genetics program. Fischer just so happened to be Bill's agriculture teacher at Hilmar High School. Mr. Fischer, as he was referred to by the entire Ahlem Farm team, mated the herd starting in 1979. Under Bill and Ed's watch, the Ahlem Farms Partnership grew into one of the top Jersey herds in the world.
Overcame adversity
Bill and Carolyn faced their share of challenges. The couple lost their daughter Adrienne Allison and son Matthew Scott. That left them with no living children. They later adopted Sabino Ahlem Herrera and Roger Ahlem Herrera, who now manage the dairy. In my opinion, Bill was perhaps the most pragmatic and clear-thinking person I ever encountered. When I visited his farm in 2005, he asked me a question that I had never been asked before . . . or after for that matter. "How much does it cost to place an advertisement on the cover of
Hoard's Dairyman
?" For about 5 seconds, I was dumbfounded. However, I quickly regrouped because I determined where Bill was headed. His farm cohorts were about to dec
line my invitation to be in the
Hoard's Dairyman
Cow Judging Contest. "The front cover is not for sale," I said. "Thought that was the answer," retorted Bill. "How much for the back cover?" I gave Bill an estimate. "Well boys, I think that's the cheapest advertisement we can ever buy. Let's do it. Plus we'll be in their Spanish edition." And with that, Bill, Ed, Sabino, and Roger agreed to picture eight — yes, eight — Excellent 90 three-year-old Jersey cows. That job was done in the next 45 days; still a standing record for
Hoard's Dairyman
. While I don't know this for certain, my hunch is that Bill's same business savvy helped get Hilmar Cheese off the launch pad. Like Maury, Bill was a servant leader. He served both the California and American Farm Bureau board of directors. He held a similar role at Western United Dairyman. He also served as chairman of the National Dairy Board. And, his beloved Jersey herd earned the Distinguished Breeder Award from National Dairy Shrine in 2015.
Core's legacy
Throughout his career, Maurice Core kept organizations he has been involved with on the forefront through his leadership, management ability, vision, and character. Few people in our industry have been as widely respected or deeply admired. Through his early work in Iowa to his heading the American Jersey Cattle Association and, finally, to National Dairy Shrine, he has made every organization stronger. He has always done this with the best interests of the members of the organizations in mind and has been unwavering in his focus on conducting business in the right, fair, and progressive way. Perhaps, as much as anything, Maurice Core, known to many as Maury, will be remembered as one of the most personable people in our industry. He has been a friend to nearly everyone and always showed a genuine and keen interest in knowing well and caring about the people whom he came in contact. Maury is indeed Mr. Gracious. Bill is Mr. Visionary.
---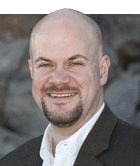 Corey Geiger
The author is the managing editor, and he brings 22 years of industry leadership to our readers overseeing all editorial content and production of the magazine. His degree from the University of Wisconsin-Madison combined dairy science and agricultural economics.