Maple Fudge of 12 Oaks, owned by siblings Colton and Ashley Brandel of Lake Mills, Wis., was named Grand Champion of the International Milking Shorthorn Show at World Dairy Expo. The cow has topped the International Junior Milking Shorthorn Show since 2016 and finally took home top honors in the open show.
"I get emotional when it comes to good cows, and it's pretty cool to make a little girl grand," announced Judge Brian Behnke of Albany, Wis. Carla Stetzer from Alma Center, Wis., was his associate judge for the show.
Reserve Grand Champion and Reserve Senior Champion went to Kuzmar Mega Lely-62. The 4-year-old, who placed second to Fudge, was exhibited by John and Marjorie Kuszlyk of Batavia N.Y. Judge Behnke called them "one heck of a pair of cows."
Intermediate Champion was Corstar Presto Mango P-EXP and is bred and owned by Cory and Kristen Salzl of Litchfield, Minn. The Salzls also exhibited Corstar Presto Lulu-ET, the Reserve Intermediate Champion.
Junior Champion of the show was Innisfail-Wo Julius Lucy exhibited by Jeffrey McKissick & Mike Uber of New Castle, Pa. Reserve Junior Champion respects went to KnH Endres Zeus Legendary shown by Mikayla Endres from Lone Rock, Wis.
Reserve Grand Champion honors of the Junior Show was Lazy M PS LadyLump Exp-ET shown by Scotty Young and Brett Groebner from Monroe, Wis. Junior Champion of the Junior Show went to the first-place fall yearling, KnH Endres Zeus Legendary, shown by Mikayla Endres from Lone Rock, Wis. Reserve Junior Champion of the Junior Show was the first-place winter yearling, Designer Genes Butterqueen, exhibited by Kara Yannesse of Edinburg, Pa.
This year's show had 218 entries. The Premier breeder of the heifer show went to Heavenly Show Cattle of Monroe, Wis. Hardcore Farm from New Enterprise, Pa., was awarded Premier Breeder and Premier Exhibitor. Kuszmar Mudslinger was named the Premier Sire of the show.
---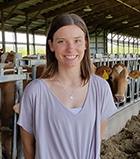 Christy Achen was the 2018 Hoard's Dairyman summer editorial intern. She grew up on a dairy farm in southwest Kansas. Achen is currently a senior at Utah State University studying agricultural communications and journalism.