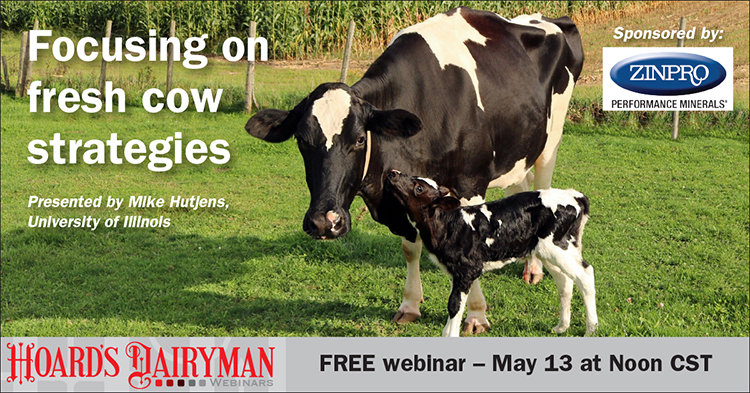 Fresh cows are the future of your herd. Their production will determine profitability over the next year. Mike Hutjens, University of Illinois, addressed the challenges facing transition cows during the May webinar, "Focusing on fresh cow strategies." He divided the presentation into three segments — the fresh cow ration, graduation day, and cow comfort.
The fresh cow ration
The ration for a soon-to-be-fresh cow should more closely resemble a farm's high production group ration rather than its dry cow ration. There is a gradual step up in energy level, while fiber inclusion drops in transitioning to a high-yielding diet. The ration also must meet amino acid requirements, especially lysine, methionine, and histidine. "Really watch methionine. It positively impacts dry matter intake while reducing stress," Hutjens stated.
He also wants functional fiber in the ration as well as additives like yeast, Rumensin, choline, buffers, and organic trace minerals.
Body condition scoring (BCS) can help identify how well the transition rations are working. Hutjens recommended a cow be dried off at 3.0, calve at 3.25, and be bred at 2.75 or slightly higher. The weight a cow carries on her back also translates to the cushion in her feet. Cows with more body condition add to the digital cushion thickness (DCT) in their feet. Cows with higher DCT have fewer lameness cases.
Fresh cows also are at higher risk for metritis, fever, longer days open, as well as immune suppression – particularly if they experience hypocalcemia. This metabolic disorder can be treated with anionic salts and calcium boluses. Hutjens warned, "One bolus is not enough to make a difference." He suggested monitoring urine pH to keep on top of fresh cow issues. A Holstein should have a pH of 5.5 to 6.0, while a Jersey would be healthy at 5.0 to 5.5.
It is estimated that 30 percent of cows experience ketosis. Obvious indicators are a drop in milk yield and lower reproductive efficiency. During a study, well-managed, high-producing herds reported ketosis cases observed in the herd. Then, ketosis testing was conducted. Cows that were ketotic were severely underreported. This stresses the fact that "good cow people" are needed to spot cows that are not feeling well. Additionally, the cost is quite high, $375 per case on first-lactation cows, and $256 for peri-parous cows. So, identifying cows can save money in the long term.
Graduation day
Moving a cow from the fresh pen to the high-production groups is a decision that should not be made based solely on a calendar or available pen space. "Don't move unhealthy cows. And that applies to their feet (lameness), appetite, udder health, and uterus," shared Hutjens.
"Wait a minimum of 10 days before transitioning them to another pen. Evaluate them for FATMUD," instructed the presenter. Things to observe include feed intake, attitude, temperature, manure, and uterine discharge. Also use your cow sense to check eyes and ears. Are they alert and moving freely?
Strong record keeping is important as well. Hutjens suggests recording rectal temperature, manure scores, and uterine discharge scores. Other things to track include rumination levels, mastitis results, milk yield, and ketone levels.
Cow comfort
Hutjens suggested having a first lactation pen if possible. Provide at least 30 inches of bunk space to cows. Research shows a 1.6 pound per day loss in production for each six inches of lost bunk space. These cows should also not be overcrowded, so a 90 percent stall usage is recommended. The gold standard for bedding is sand and heat abatement (fans, misters) is critical
When looking at the whole herd you can evaluate your fresh cow progress. Here are Hutjens key performance indicators:
• Number of cows culled before 60 days
• Dry matter intake levels
• Prevalence of milk fever, ketosis, displaced abomasums, and retained placentas in the herd
"Detect the little problems before they become big problems," concluded Hutjens.
The webinar can be found online (link: on.hoards.com/WB_051319) and was sponsored by sponsored by Zinpro Performance Minerals. Past webinars are found at www.hoards.com/archives.
---
Join us next month
Joe Dalton, University of Idaho, will present "Synchronization strategies for heifers" on Monday, June 10, at noon (Central time).
Heifers do not provide a return on investment until after entering the milking string. New synchronization strategies have been developed to enhance reproduction in heifers. These concepts aid dairy producers in optimizing age at conception and age at first calving goals while limiting feed costs.
Register at www.hoards.com/webinars.
---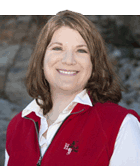 The author is the online media manager and is responsible for the website, webinars, and social media. A graduate of Modesto Junior College and Fresno State, she was raised on a California dairy and frequently blogs on youth programs and consumer issues.