Ah, fair week. As a farm kid, fair week has always been one of my favorite weeks of the year. Where else could you eat delicious fried foods, run into your second grade teacher, watch a rodeo, and use a dime to win a glass that says "Grandma McCartney's 90th Birthday Bash" all in one night?
When you take animals to the fair, you get an entirely different view than most fair-goers. You spend all day there, maybe even all night depending on the fair. It's actually annoying when 5 p.m. hits, and the public starts to arrive. It gets way busier, lines are longer, and the questions mount. They used to drive me crazy. If I had heard one more parent tell their kid that the black and white cows were the daddies and the brown cows were the mommies, I was certain I'd throw something. If I could go back and give young me some advice, I'd tell her to shut up and answer all the dumb questions.
Fair is a lot of work when you're taking care of animals. It's pretty easy to feel like it is ours, not theirs. That fair is for us.
But is it? Isn't the point of the county fair to showcase agriculture and all that it has to offer? And then to show it off to those in our community who don't understand it?
I know you're tired, cranky, probably hot, and annoyed. I've been there, but county fairs aren't all about us. They also aren't all about the public. They're about us showing them how and why we do what we do and them appreciating it in return. And how can we expect the public to appreciate what we do if we don't take the time to show them?
So, do me a favor this year at your fair, answer all the dumb questions. Ask the people who stop to look at your animals if they have questions. Better yet, post signs around your area with questions people can ask you and literally ask them to ask a farmer. We spend a lot of time complaining that people don't understand us, then we're handed the perfect opportunity to help them understand and we waste it. Well, this year, don't waste it
---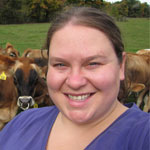 The author dairies in partnership with her parents and brother at Spruce Row Farm in Pennsylvania. Jessica is a graduate of Pennsylvania State University, and since 2015, she has been active in promoting dairy in her local community. You can find her and her 250 Jersey cows on Facebook at Spruce Row Dairy or on Instagram at @seejessfarm.