If you are lucky enough to find yourself sitting ringside during one of the World Dairy Expo dairy cattle shows, there's an opportunity for you to place the animals right along with the official judge.
Coming back for the second year is the railbird judging contest. The term "railbird" refers to show enthusiasts who watch from the sidelines, and a railbird contest gives everyone a chance to see how their placings compare with the judge's.
There will be one railbird judging class from each breed; it will always be during the cow show. The classes will be published in the Expo Daily Edition and announced ringside.
From the start of the class, participants will have up to 15 minutes to submit their top four backtag numbers. Once the class concludes, the winner will be notified by text. Anyone with texting capabilities on their cellphone is eligible to participate.
The first person to text the correct answer will be the winner! The prize is a gift from The Purple Cow gift shop.
People who want to participate in the contest should text "RAILBIRD" to 727-4-WDEXPO (727-493-3976). Those signed up will be texted at the beginning of each railbird class and given instructions for submitting their placings. First up will be the Ayrshire class during today's (Tuesday) show - don't forget to get signed up!
---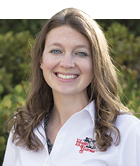 Abby Bauer
The author is an associate editor and covers animal health, dairy housing and equipment, and nutrient management. She grew up on a dairy farm near Plymouth, Wis., and previously served as a University of Wisconsin agricultural extension agent. She received a master's degree from North Carolina State University and a bachelor's from University of Wisconsin-Madison.