It's the official opening day of World Dairy Expo, and that means there's a ton to see and do! Besides cow shows and information sessions, you'll learn about the industry's newest technologies, products, and services in the exhibitor booths around the grounds. There's so much to take in; how can everything possibly fit into a few days? I can't solve that one for you, but here are five things you'll pick up right away by visiting the Hoard's Dairyman booths:
Better ideas for your business
This is what Expo is all about. At the world's most encompassing dairy trade show, chances are you can find answers for nearly any kind of problem you're seeing on the farm. Our booths will feature books covering farm account management, reproductive health, and everything in between. Each is written by industry professionals to help your farm thrive. New to the bookstore this year is an updated version of our Calf Care manual. Herd managers and calf specialists will benefit from this practical, easy-to-read guide.
New art to share
This year, our December Christmas cover will feature new artwork by painter Larry Schultz, but you don't need to wait two months to see it! Come to the booth to view the image, and you'll be able to grab some Christmas cards featuring the piece to share holiday cheer with dairy flair this year. For Expo week only, you can save 25 percent and get a bundle of 30 cards for $30.
Gifts for everyone
Speaking of Christmas, you'll find all kinds of gifts at the Hoard's Dairyman Bookstore. Pick up a new 2020 calendar, a unique Bonnie Mohr poster, or one of multiple books about dairy industry history to share with friends and family. Your local rural historian might enjoy our new Preserving Old Barns book and the stunning photographs it features. Stop by to see it for yourself.
Training guides for the new year
After this year's contests, youth will know exactly where they can improve to be more competitive next year. Parents, coaches, and students alike can search through our judging, showing, and career materials to find the tools to learn those skills and the confidence that comes with them.
An appetite for more
If you like what you see at the booth, you can sign up for more helpful articles and interesting stories delivered right to your mailbox! Stop by to check out a free copy of our World Dairy Expo issue and purchase a subscription for upcoming editions. As a special thank you for any new subscriptions, you'll get a free 2020 calendar or another subscription to give to someone else.
If you want to take all of this and more home from your experience at World Dairy Expo, stop by our booths in the Coliseum (213 and 217, right down the stairs from the front entrance) and the Exhibition Hall (4327 and 4328). We hope to see you soon!
---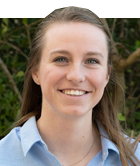 Katelyn Allen joined the
Hoard's Dairyman
team as the Publications Editor in August 2019. She manages the development, editing, and marketing of the variety of resources offered through the Hoard's Dairyman Bookstore. Katelyn is a 2019 graduate of Virginia Tech, where she majored in dairy science and minored in communication. Katelyn grew up on her family's registered Holstein dairy, Glen-Toctin Farm, in Jefferson, Md.