As the gates opened on the first official morning of World Dairy Expo, many people headed to the Exhibition Hall for a town hall meeting. The guest of honor for this discussion was U.S. Secretary of Agriculture Sonny Perdue.
The room was full of dairy producers and allied industry representatives eager to ask the secretary questions about milk pricing, crop payment programs, and organic milk production. He was also asked to give an update on trade and the USMCA (United States-Mexico-Canada Agreement).
"Trade obviously is the number one issue I hear around the country — north, south, east, west," Perdue said. "I hear about it because it's important."
He continued, "I like to put it into perspective. We are in a country so blessed that we have to depend on foreign markets because of our productivity."
In regard to the USMCA, Perdue said he sees no measurable objections and thinks it will pass.
"I think it's good for America. NAFTA was good, but this is a more modern agreement," he said.
He made specific mention about Canada's Class 7 milk price system. "This was a circumvention of the rules of NAFTA," he said. "That will be stopped."
Furthermore, Perdue encouraged farmers to continue speaking up to decision makers.
"Let your voices be heard. Communicate your desires to policymakers," he said.
There is so much to see and do at World Dairy Expo, it is difficult to fit everything in. However, those who took the time to attend the town hall meeting had a unique opportunity to hear Secretary Perdue speak live during his time in Madison.
---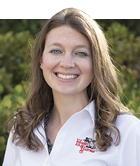 Abby Bauer
The author is an associate editor and covers animal health, dairy housing and equipment, and nutrient management. She grew up on a dairy farm near Plymouth, Wis., and previously served as a University of Wisconsin agricultural extension agent. She received a master's degree from North Carolina State University and a bachelor's from University of Wisconsin-Madison.