Thursday, October 3 is the day. It's the day you can get your very own Badger Dairy Club grilled cheese sandwich made with Hoard's Dairyman Farm Creamery Belaire cheese. The cheese will be featured sliced and melted in the same fashion that you have come to expect from the Badger Dairy Club.
If you'd rather try it sans the bread and melt, stop by the Hoard's Dairyman booth in Exhibition Hall (4327). They will be offering cheese samples all week, and there you also can learn more about the cheese, where it comes from, and how you can get it directly shipped to your home.
Expo also offers an opportunity to buy the Belaire cheese. You can find it for sale at the Kraemer Wisconsin Cheese booth in Exhibition Hall (6111). Grab some to eat, share, or take home!
Finally, if you would like to learn more about Belaire or our other cheese, visit www.hoardscreamery.com
---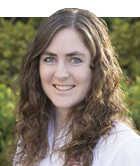 Maggie Seiler
The author is an associate editor. She covers feeding and nutrition, youth activities, and heads up the World Dairy Expo Supplement. Maggie was raised on a 150-cow dairy near Valley Center, Kansas, and graduated from Kansas State University with degrees in agricultural communications and animal sciences.