The selection of Grand Champion of the International Jersey Show at the 2019 World Dairy Expo came down to a very close placing for Judge Jack Lomeo Jr. and his associate judge, Brent Walker.
"These cows out here are all anybody can ask for and more," said Lomeo, who comes from Sylvan Beach, N.Y.
In the end, he tapped the winning Five-Year-Old Cow, Bri-Lin Valson Spritz, as Grand Champion. When talking about his winner, Lomeo said, "It is just her day. She's a little more feminine, a little cleaner."
The Reserve Champion cow was first-place Four-Year-Old, Showdown Justine. Lomeo pointed out to the crowd that this cow was just 24 days fresh.
Both cows are owned by Vierra Dairy Farms from Hilmar, Calif. The pair was also named Senior Champion and Reserve Senior Champion of the show.
Intermediate Champion of the show was LLR Tequila Excitement, owned by Glamourview-Iager/Walton and Eaton Holsteins of Marietta, N.Y. Lomeo called her a "beautiful cow" after naming her Honorable Mention overall. The Reserve Intermediate Champion was Despresverts Joel Glamour-ET, shown by Joshua Arp, Norwalk, Ohio.
The Junior Champion was Schulte Bros Teq Glory-ET. The winning Summer Yearling Heifer was exhibited by Budjon Farms and Peter Vail of Lomira, Wis. Reserve Junior Champion was the winning Fall Heifer Calf, Campbell TB Gunman Elsa, owned by Lookout and Verna and Randy Peterson of Canton de Hatley, Quebec.
In the Junior Show, Four-Hills Velocity Gloriana was named Grand Champion. The senior three-year-old cow was shown by Megan Hill of Bristol, Vt. Reserve Grand Champion honors went to Meadow Ridge Kasanova Sara, owned by Michael Riebe and Alleah and Emma Anderson of Cumberland, Wis.
Junior Champion of the Junior show was a winter yearling named Townside Norman Kookie, owned by Noah Bilz and Greg Cornish of Dorchester, Wis. The Reserve Junior Champion was KCJF Andreas Cancun, a fall yearling shown by Landree Fraley of Muncy, Pa.
The Premier Breeder of the show was Arethusa Farm of Litchfield, Conn. Premier Exhibitor was Vierra Dairy Farms from Hilmar, Calif. Tower Vue Prime Tequila-ET was once again named Premier Sire.
In the heifer show, Meadow Ridge Jerseys, Cumberland, Wis., earned both the Premier Breeder and Premier Exhibitor Banners. J-Kay Tequila Fizz was Premier Sire of the heifer show.
---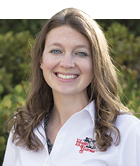 Abby Bauer
The author is an associate editor and covers animal health, dairy housing and equipment, and nutrient management. She grew up on a dairy farm near Plymouth, Wis., and previously served as a University of Wisconsin agricultural extension agent. She received a master's degree from North Carolina State University and a bachelor's from University of Wisconsin-Madison.