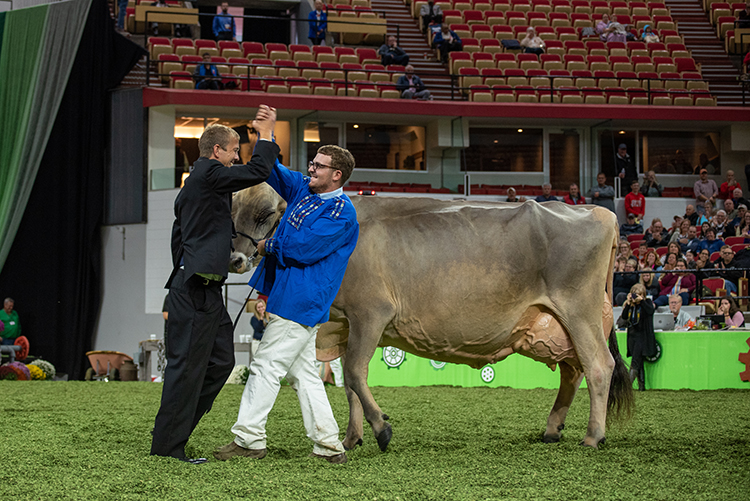 It is not that often that a World Dairy Expo Supreme Champion returns to the colored shavings to compete the following year, but Cutting Edge T Delilah did — and she was in top form.
After winning the Aged Cow/Six-Year-and-Older class, Delilah went on to be named Senior and then Grand Champion of the International Brown Swiss show at World Dairy Expo by Judge Joe Sparrow of Owenton, Ky.
"This cow is a dairy train coming at you. And what a caboose," he said. "I've never seen a rump on a cow like this one."
Sparrow, who is believed to be the youngest person to have judged the Brown Swiss Show at World Dairy Expo, continued, "Her dairy strength is second to no cow. She has a beautiful mammary system, with a deep seam, and she just floats around this ring."
Delilah was exhibited by Ken Main and Kenny Jo Manion of Copake, N.Y. They also owned the Reserve Champion and Reserve Senior Champion cow, Cutting Edge Thunder Faye. Judge Sparrow and his associate judge, Jeff Core, really admired the five-year-old cow. Sparrow said, "I love the silky quality she has end to end. She has so much style about her."
The Intermediate Champion was Jenlar Carter Waltz-ETV. She was the first-place Junior Three-Year-Old Cow exhibited by Brianna Meyer of Chilton, Wis. She was also Grand Champion of the Junior Show. Reserve Intermediate Champion was Eloc Biver Rennie, the winning Senior Three-Year-Old Cow owned by Pierre Boulet and Yvon Sicard of St-Justin, Québec, Canada.
The Junior Champion was a fall heifer calf, Knapp Jetway Wiggle, exhibited by Matthew Pacheco of Kerman, Calif. The winning Winter Yearling Heifer was the Reserve Junior Champion. She was New View C Bravo, exhibited by Molly Moffett and Kelly Jo Manion of West Salem, Ohio. She was also named Junior Champion of the Junior Show.
Rounding out the top entries in the Junior Show, Reserve Champion was Random Luck L Talula, exhibited by Matthew Thompson from Darlington, Wis. Reserve Junior Champion was Red Brae Noble Louisiana, shown by Wesley Winch, Fennimore, Wis.
In all, 319 animals were exhibited during the International Brown Swiss Show. As is the tradition, the crowd in attendance had the pleasure of watching the New Glarus Yodeling Club perform as part of the Parade of Champions prior to the naming of Grand Champion.
Elite Dairy of Copake, N.Y., was recognized as the Premier Breeder of the show and of the Heifer Show. The Premier Exhibitor banner went to Ken Main and Kenny Jo Manion of Copake, N.Y. Pit-Crew Genetics of Cambridge, Minn., was Premier Exhibitor of the Heifer Show. The Premier Sire was Cutting Edge Thunder, while Voelkers TD Carter was Premier Sire of the Heifer Show.
---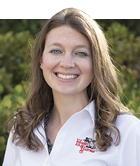 Abby Bauer
The author is an associate editor and covers animal health, dairy housing and equipment, and nutrient management. She grew up on a dairy farm near Plymouth, Wis., and previously served as a University of Wisconsin agricultural extension agent. She received a master's degree from North Carolina State University and a bachelor's from University of Wisconsin-Madison.