Secrets can be a lot of different things. They can be appreciated. For example, a surprise for a loved one. Or, they can be devastating as in an admission of having suffered abuse.
There is such a thing as a healthy secret, but I think that most of our secrets are the opposite. They're things we're ashamed or scared of; thoughts we don't want to share with the people we love for one reason or another. Maybe you're not looking for advice; you just need to say it out loud. But voicing your fears to the people you love make them all too real.
Agriculture is hard right now. Not just financially or physically, but emotionally and mentally, too. As hard as it is to talk to our families, sometimes it's even harder to talk to professionals or friends who don't understand farming.
I can't offer you professional advice, and I don't think I'd have time to speak to all of those who need it but I can offer a release. My newest project is called Secrets Of Ag, and it is a place to voice your fears without the fear of judgement, because no one will know it's you.
You can submit your secret completely anonymously, not even I know who wrote them. Then, a few secrets at a time, I will share them publicly. My hope is that by setting them free, publicly, it will take some of the weight off all our shoulders. Not only will it make the submitter feel better to say it out loud, but maybe someone struggling with the same secret will feel a little more understood knowing that they're not suffering alone. If you'd like to submit a secret, visit the site.
I'd like to take a minute to say that I hope this truly helps, but if you need real, professional help please find someone. If you truly need help, call the Suicide Prevention Hotline at 1-800-273-8255. Keep reading to see a few examples of secrets that have already been submitted.
'Sometimes when feeding is running late, dinner is still later, we haven't started homework yet, and the kids still need showers; I secretly wish a predator will destroy my flocks so I can be done for the season and catch my breath.'
'I never make it to work on time anymore because I hate the family of farmers I work for. They communicate poorly and blame things on others when they themselves did something. I was so excited to start this job two years ago and work with cows and calves, but now I can't wait until I have another job. But I still feel bad about leaving the farm because they are struggling so hard to find milkers and workers, but I can't keep working there because it's ruining my mental health. And I'm taking it out on my friends and family that don't deserve it. Why does dairy farming have to make me feel like this? I really used to enjoy it, but now I just can't.'
'I'm tired of defending an industry that also screams at me as their field rep. I don't make milk price. And I'm trying to spread the good you all do. Back off.'
---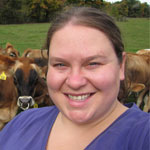 The author dairies in partnership with her parents and brother at Spruce Row Farm in Pennsylvania. Jessica is a graduate of Pennsylvania State University, and since 2015, she has been active in promoting dairy in her local community. You can find her and her 250 Jersey cows on Facebook at Spruce Row Dairy or on Instagram at @seejessfarm.
---
Join us for a special upcoming webinar:
Special silage hybrids webinar: Hoard's Dairyman invites you to a special webinar – "Guidelines for Selecting a Silage Hybrid" presented by Pioneer on Monday, October 28 at noon (Central). With a focus toward dairy nutritionists, Bill Mahanna will provide an overview of the agronomic and nutritional factors to consider when selecting a silage hybrid. Register at this link.